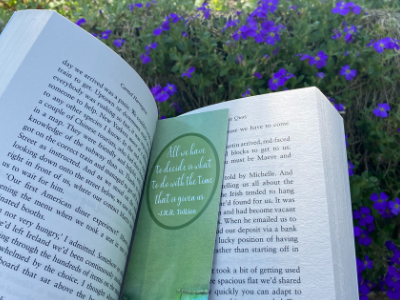 3 Unique Gift Boxes for the Book Lover in Your Life | The Book Resort Edition
We have a special offer at the moment, where you receive a free subscription box if you sign up for a 6 month subscription.  Click here for more information.
Looking for the perfect gift for the book lover in your life? Look no further than The Book Resort! Throughout this blog post we are going to look at 3 unique (and our most popular) gift boxes from The Book Resort that are sure to please the book fanatic in your life.
As well as that, we're going to give you some insight into the best gifts for the book lover in your life and even how to spot a bookworm in your life by keeping an eye out for telltale signs of a book lover, ultimately making your life easier when Christmas time and birthdays role around!
Book Lovers Unite
Everyone is different. This means that every single person on this planet has different likes and interests. For this reason there are different types of book lovers in this world. Some people love to read casually & sporadically, while others are bookworms who can't get enough of reading and could literally read a book a day! However, there are also people out there who love to collect books, and others who can be fixed in their ways and only enjoy reading certain types of books. 
Whatever type of book lover you are or are preparing to buy a gift for, there's sure to be a bookish gift out there that they'll love. For the casual reader, a gift card to a bookshop or a kindle could be the perfect present. For bookworms, you could consider a book subscription service or a personalized book recommendations service (or even recommending a good book club if they never stop talking about books!). For book collectors, finding a first edition of their favorite book or a signed copy from their favorite author could absolutely blow their mind. Whatever one you think relates most to you recipient, you can be sure that we can help you find the answer to any questions you have!
How to Spot the Book Worm in Your Life
If you're looking for the bookworm in your life, there are a few telltale signs. For one, they are usually avid readers, with a book always within reach. They might also have a book-themed home, with bookish gifts on display. Another clue is that bookworms tend to be well-read and knowledgeable on a variety of topics. 
With that said, there are few things more fun than giving bookish gifts to the book worm in your life so here are a few more tips on how to spot the book lover in your midst:
Look for signs of an extensive personal library. This is often a telltale sign of a book lover. If you see stacks of books around the house, on shelves, in corners, or even piled up on the nightstand, it's a good bet that you've found a bookworm.

Book lovers are often voracious readers, so another way to spot them is to look for evidence of reading material in unexpected places. For example, if you find a book tucked away in a purse or backpack, or even in the glove compartment of a car, chances are good that you've found a bookworm.

Another way to identify bookworms is by their love of bookish gifts. If the person you're shopping for is always thrilled to receive books as gifts, there's a good chance they're a bookworm.
So, if you're on the lookout for the perfect bookish gift for the book lover in your life let us introduce you to our most popular bookish gifts so far this year.
The Coffee Gift Box
If your gift recipient is a book lover, chances are they love a good cup of tea or coffee. We've been crunching the data on our most popular bookish gift boxes and have found our Coffee Gift Boxto be the box of choice and is filled with everything the hybrid book/coffee lover in your life will need. Contents are as follows:
A brilliant new book (obviously).

A reusable glass coffee cup from "Monkey Cups Ireland" that keeps your coffee warmer for longer and can be used on the go on a busy day or while you're curled up on the sofa with your new read!

What compliments a good book and a delicious cup of coffee? Hassetts Bakery delicious shortbread biscuits of course! A must have. 

Last but not least aromatic and fragrant coffee beans from a local coffee guru in Waterford Coffee House Lane. A new book might excite your giftee but we can guarantee a cup of Coffee House Lane is the next best thing!
Kids Happy Box
If your individual of choice is a little younger, not to worry - we have tried and tested our Kids Happy Box and can promise it's a winner. We're always surprised at the amount of times this gift box is requested and get ecstatic about how reading never grows old as a hobby! Our Kids Happy Box offers…
A brand new age appropriate book.

Delicious chocolate that may need to be limited due to the sugar rush!

Cozy socks that encourage cuddling up on the sofa with a great read - a true winner!

A copy of The Happy Newspaper to get those happy endorphins following whilst turning on the learning switch!
If you'd like to make this box even more personalized we can make that happen with the addition of friendship bracelets - too cute!
Book Lovers Gift Box
Not to toot our own horn or anything but we have truly created the ULTIMATE Book Lovers Gift Box. The hint is in the name. 
This gift box is any reader's dream, stuffed with books and a gorgeous bookish mug and tote bag for everyday use.
In this box you will receive…
Not one, not two but THREE Brilliant Books

Our completely relatable 'Just One More Chapter' mug

A choice of some amazing and locally handmade bookish tote bags
If this book box doesn't bring a smile to the book lover in your life… our money is on that they don't actually like reading!
Shop all of our gift boxes here.
So there you have it. Spot the book worm in your life and get them the best gift possible for any special occasion! Irish gifts, bookish gifts, and gift delivery from The Book Resort are just a few clicks away.
We have a special offer at the moment, where you receive a free subscription box if you sign up for a 6 month subscription.  Click here for more information.