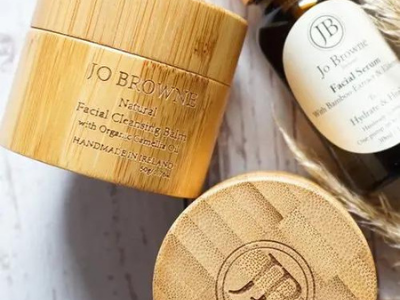 Jo Browne Ireland
Jo Browne Ireland is one of our absolute favourite suppliers here at The Book Resort. We love supporting women in business and so when Jo Browne joined our stockists list, we were absolutely delighted. We adore what they are about from their skincare routine products to their bedding range – their products are for anyone looking to upgrade their cosmetic range, implement a fantastic skincare routine or those who are looking to up their sleeping hygiene!  
Jo Browne, owned and founded by Joanne Browne, is part of the women in business community here in Ireland. They are an Irish company that offers luxury natural products for both you and your home. They hand-make and hand-pore all of their products and we can guarantee that each and every Jo Browne product will fit seamlessly into both your skincare routine as well as your sleep hygiene routine. The word luxury is only a tip of the iceberg when it comes to Jo Browne cosmetics, skincare and bedding products.
Founded in 2016, Jo Browne has experienced overwhelming success in their industry. Their ethos is to develop premium skincare routine and sleep hygiene products in a natural and sustainable way. High quality ingredients are at the core of each product at Jo Browne. Based in Carlow, Jo Browne is best known for their solid perfumes, facial cleansing balm and luxury bamboo bedding.
Women in Business
Joanne Browne, the founder and creator of Jo Browne, is a leader in her industry. By following her dream and passion to create her first product, the Jo Browne brand was born and has thrived ever since.
Here at The Book Resort we love supporting women in business. Our company was founded by Aisling Finn, another fantastic woman in business in Ireland who is best known for her business skills and reading recommendations. The community she has created through The Book Resort business has created a domino effect in the industry and supporting other women in business is at the top of her priority list. You will know this from simply looking at the never ending supportive content on The Book Resort's Instagram page.
We stock over 100+ Irish business and most of these companies are run by women in business. The business industry can be a tough place to thrive, particularly when it comes to women in business, and for this reason we absolutely love to support every small, independent and female empowered business that we can!
Why not take a look at some of our other fabulous suppliers, many of which are female led.
Our Favourite Jo Brown Products
Now we absolutely hate picking favourites when it comes to our skincare routine products but when it comes to Jo Browne products, we absolutely have some favourites. Let's introduce you to some of our most popular Jo Browne products.
Cosmetics;
Jo Browne Bamboo Toothbrush
This Jo Browne toothbrush aids your sustainability practices when it comes to the simple practice of brushing your teeth. With the handle being made from bamboo and the bristles being made from nylon 6, this product is BPA free and FDA approved. It most definitely gets thumbs up from us here at The Book Resort.
Organic and Luxurious Re-usable Bamboo Makeup Remover Pads
These undeniably soft makeup remover pads will actually make you want to remove your make up before bed which is a miracle in itself. With these 100% natural and reusable bamboo pads you can remove your make-up again and again to care for the environment and to help reduce daily waste. However this product can also be used to apply your cleanser, toner and moisturiser if you so desire! An all-rounder product if we ever saw one.
The Jo Browne Solid Perfume
This Jo Browne product is a game changer. The solid perfume from the Jo Browne range is an elegant and floral composition where sparkling bergamot and grapefruit rest upon a full blooming heart of wild jasmine, tuberose, lilac and orange blossom twisted with lemongrass. Sandalwood and myrrh form the base with a whisper of green violet leaf. The most invigorating perfume solid in our well rounded and experienced opinion!
Jo Browne Bamboo Sleep Mask
This Jo Browne silky sleep mask will aid anyone looking to improve their sleep hygiene. This mask was created to block out the light for total relaxation. This Jo Browne Bamboo Sleep Mask will aid your restful and healthy sleep with its cooling effect. Hypoallergenic, free from harmful chemicals and ideal for sensitive skin – this sleep mask does it all.
Jo Browne Pillowcase set
Silky soft and luxurious, this Jo Browne bamboo bedding range delivers a new sleep experience like never before. This makes getting out of bed even tougher. Never again will you have to Google ways to sleep better once you experience your head on the silky smooth Jo Browne pillowcases.
Jo Browne Body Oil
This is one of our most popular gifts and is definitely a product you should think about incorporating into your daily skincare routine. With exotic mangosteen oil also known as the "Queen of Fruits", this body oil hydrates, conditions and moisturises the skin. It is also bound to fit seamlessly into your new and improved skincare routine! Scented with only the best eight essential oils to help you to de-stress, calm the mind, uplift and brighten your mood. For the best skincare routine we recommend Jo Browne Body Oil.
Jo Browne Facial Cleansing Balm
Camellia Oil is considered a "Miracle Oil" because of its many beauty and healing benefits. It nourishes and revitalizes delicate dry skin, strengthens its protective barrier, replenishes skin with vital skin nutrients and leaves your skin feeling silky smooth. Not only will this be of benefit to your skincare routine, you will be left feeling soft and supple after using this amazing product from Jo Browne.
Jo Browne Luxury Body Scrub
This is just another amazing product from Jo Browne's skincare routine range. This body scrub is a 100% natural body scrub with golden jojoba oil to hydrate and smooth your skin. This is the ultimate addition to that perfect in-shower skincare routine. 
Jo Browne Soap
This deliciously smelling and nourishing soap contains exquisite plant oils and is handmade. It contains a very mild formula that cleanses and conditions the skin to leave you feeling happy with your skincare routine.
Shop all the Jo Browne products here.
Check out Jo Browne's even bigger range of products over on the Jo Browne website. 
How do I use the Jo Browne body scrub?
This natural and organic body scrub can be used on dry or wet skin. By incorporating circular movements this scrub should be rinsed off with warm water. For the most beneficial skincare routine results, use once or twice a week.
Why are bamboo products so popular?
Bamboo products are super soft because bamboo fabric is luxuriously soft with a feel of cashmere. It Is absorbent and moisture wicking which aids you to stay drier. It is also hypoallergenic and skin friendly – perfect for those who suffer from sensitive skin or eczema. In addition to this, the bamboo silk sleep mask is vegan and cruelty free – a great alternative to traditional silk!
What ingredients are used in Jo Browne products?
Many of the Jo Browne products contain the following (but are not limited to) ingredients;
Organic Helianthus Annuus Seed (Sunflower) oil,  Caprylic/Capric Triglyceride,   Rose canina (Evening primrose) oil, Simmondsia Chinensis ( Jojoba) seed oil, Garcinia Mangostana oil, Citrus Aurantium, Bergamia peel (bergamot) oil, Citrus Aurantium Amara Flower (neroli) Oil, Cymbopogon Martini (palmarosa), Boswellia Carterii Gum (Frankincense) Oil, Pelargonium Graveolens Flower (Geranium) Oil, Citrus Grandis Peel (Grapefruit) Oil, Rosmarinus Ofcinalis Leaf (Rosemary) Oil, Styrax Benzoin Resin Oil. *Geranila, *Limonene.
Either way, we know you are going to absolutely adore the Jo Browne products that come in these gift boxes.
Always remember to read more books, create your own skincare routine and sleep better with Jo Browne!
The Book Resort Team
We have a special offer at the moment, where you receive a free subscription box if you sign up for a 6 month subscription.  Click here for more information.