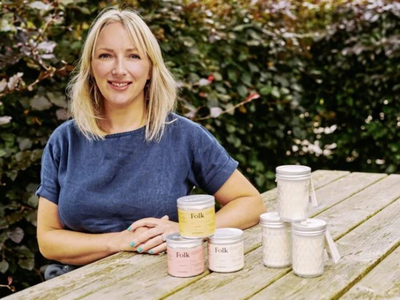 Women in Business in Ireland - Alix from FieldDay
FieldDay is a company where we imagine they run around fields all day smelling flowers to find gorgeous new scents for us.  We find out that it's not quite like that.
Tell us about yourself, where are you from and what business do you run?
My name is Alix Mulholland and I'm the owner of FieldDay; a home fragrance company selling candles, soaps, diffusers and lots more! We've just celebrated 20 years in business.
What made you decide to set up your own business?
My Dad ran his own shoe business so I was exposed to the world of self-employment from such a young age and honestly can't remember a time that I didn't want to have my own business. My mum was very creative; always making, sewing or baking, so I suppose it's no surprise I ended up running a creative business!
What do you love about running your own business?
The creative freedom to make decisions, and create my own direction and destiny.
And the parts you don't love?
The uncertainty of income and sales, and it can also be a bit lonely being the boss.
What was your biggest learning curve?
Several years ago, when we re-branded from Bog Standard to FieldDay AND updated our packaging all in one go. It was like a massive logistical jigsaw to solve. 
What would be your advice to other women in business or thinking about starting out?
You need to be genuinely sure your product or idea will address a gap in the market. Dragons Den is a great illustration of passionate ideas, but not necessarily viable commercially or filling a gap. But if it is a good idea, then listen to that little inner voice and give it a go. Hopefully you have the resilience and vision to make it a success.
We know you are very busy, how do you take care of yourself?
My favourite thing is to spend time in nature. I find it so calming. I'd rather go for a walk and daydream in a field than go to a Spa…
How can people support small Irish businesses?
If you love a brand or product then tell others – tell your friends and family- don't keep it to yourself!
Give feedback, good and bad- we need to hear what you love and don't love!
Tell us a book/podcast/other business that you admire/would recommend.
Shoe Dog, Phil Knight's memoir about creating Nike. He created the brand in 1963 with $50 borrowed from his Dad, and went on to create one of the most famous brands on the planet.
It's a refreshingly honest reminder of what the path to business success really looks like. It's a messy, perilous, and chaotic journey riddled with mistakes, endless struggles, and sacrifice.
Visit FieldDay.