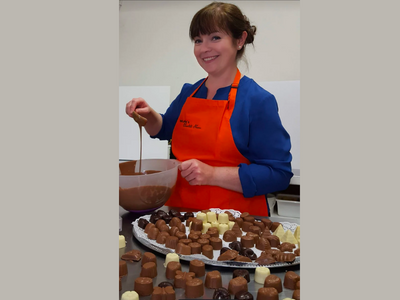 Women in Business in Ireland - Marlene from Marlene's Chocolate Haven
Meet some of Irelands female entrepreneurs running their own business.  Prepare to be amazed and inspired as we bring you a mini series about these wonderful business owners.  
First up is Marlene who runs Marlene's Chocolate Haven in Westport, Co Mayo.
Tell us about yourself, where are you from and what business do you run?

My Name is Marlene Foy born and raised just outside the beautiful town of Westport Co Mayo. I make Handmade Chocolates and Hot Chocolate since 2004 in Westport called Marlene's Chocolate Haven.

What made you decide to set up your own business?

What started out as a hobby in my kitchen is now what I fill my days with, making Handmade chocolates, which are not like any other chocolates in the world. My customers get that personal touch in every item I make. The taste, quality and service is always unique, because it's me. My heart and soul goes into every bite. I love making chocolate because it brings out the creative side in me and I get to
invent and explore these ideas with others

What do you love about running your own business?
My Products bring friends and family together weather it's an occasion or just a meet up that makes family memories for life. It's the feeling of shopping local, and getting that personal touch. I can use my creative work skills to tailor make a product to my customer needs. I give them a feeling of nostalgia, that feeling of home in every product. Bringing the 'The Sweet Life' to life!

And the parts you don't love?

The long hours can be exhausting especially at busy occasions during the year. Long hours on your feet.

What was your biggest learning curve?

Every day is a school day; you can never have enough information. Business changes all the time, you have to keep learning.

What would be your advice to other women in business or thinking about starting out?

Get as much help, wither it's from family and friends to get set up first or from a professional. Research your product as much as possible and know it, inside out.

We know you are very busy, how do you take care of yourself?

As much I can I try to walk , read and meet with family and friends. And travel if the time allows.  Obviously there are times of the year these take a back seat and the business comes first. Part of the sacrifices of running your own business.

How can people support small Irish businesses?

Visit your local markets if there is one near you or if you are visiting a new place. Or there are great
websites such as https://justbuyirish.com/ and https://www.guaranteedirish.ie/.

Tell us a book/podcast/other business that you admire/would recommend.

I like the Dermot and Dave from Today FM Podcast, they always seems to make me laugh at the world.
Visit Marlenes Chocolate Haven.