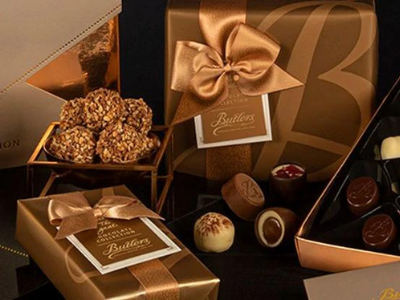 Butlers Chocolate-The Ultimate Irish Chocolate for Chocolate Lovers
Butlers Chocolate Gifts
The Best Chocolate Gifts from Butlers Chocolate
We all know that Irish chocolate is like no other and it is of no surprise that chocolate is the best gift to add to a luxurious gift box or hamper. We also know that you most definitely have a chocolate lover in your life that is always delighted by a chocolate gift for their birthday or as a Christmas present. Chocolate gifts never get old – just tastier (especially Irish chocolate!).
That is why we often incorporate a selection of chocolate gifts into the majority of our gift boxes here at The Book Resort. There is nothing quite like sitting down to read a fantastic new book whilst opening a delicious and luxurious Irish handmade chocolate gift. We will choose the perfect book to accompany the chocolate.
The Best Chocolate Hampers
As we grow as a company and as Christmas time approaches, we have been on the prowl for some of the best Irish gifts and Irish chocolate for our everyday hampers and Christmas gift boxes. Do you continuously find yourself searching for gifts for her or gifts for him? We've got you covered with our Irish chocolatiers.
We love chocolate gift boxes and we know that you do too because we always get fantastic feedback about our chocolate gift suppliers and our luxury chocolate gift boxes. Here's what some of our customers have said about our Irish chocolate gifts;
"Super-fast at delivery and my sister loved chocolates and books. Perfect escapism for busy mum." – Cliona
"Highly recommend this service. I ordered for a friend who was sick and she was delighted with the choice of book and delish chocolate. I am reordering for another friend this week. Great that it is an Irish company." – Patricia
"This is the most fabulous gift to give and receive, the chocolate & soap are to die for too" – Lorraine
Feeling peckish yet? Us too.
Butler's Chocolates was founded in 1932 in Ireland and is a premiere family owned firm dedicated to the creation of luxurious Irish chocolate gifts. Their award winning chocolate is like no other and we are so happy to have them on board to fill our gourmet gift boxes with their delicious Butlers chocolate. We can honestly say that their chocolate gifts are some of the most stunning chocolate gifts available in Ireland – trust us we've tried them all!
From Butlers personalised chocolates to Butlers chocolate hampers we have handpicked some of the best chocolate gifts for you to add to your Book Resort book box. If you're looking for the best chocolate gifts in Ireland or the best chocolate to add to your chocolate gifts, look no further than our gourmet chocolate gifts from Butlers;
Butlers Chocolate Truffles
These milk chocolate truffles from Butlers Chocolate are the perfect addition to any chocolate gift box or chocolate hamper. This chocolate gift is a truly delicious combination of 30 blissfully smooth milk chocolate truffles captured in a luscious milk chocolate shell. Beautifully presented in a stunning tapered box and finished with a matching hand-tied ribbon. Sound a bit like you?
Butlers Chocolate Ballotin
The Butler's Chocolate Ballotin is one of our most popular additions to our gift boxes and we consider it one of the best chocolate for gifts for that person in your life who has got a sweet tooth. This beautiful box of chocolates, featuring a luxury selection of unique chocolate truffles and pralines, has been specially crafted by Butler's chocolatiers to create that perfect chocolate gift. The selection has 7 varieties including; Milk Chocolate Truffle, White Chocolate Vanilla and 70% Dark Chocolate Truffle. Each beautiful ballotin is gift wrapped in bespoke rose gold paper and adorned with Butlers Chocolate signature rose gold ribbon. If this isn't the best Irish chocolate gift, we don't know what is.
Butlers Chocolate Collection
We suggest that you keep the Butlers Chocolate Collection in mind when creating your own personalised gift box – especially if it's a Christmas present! It is the perfect chocolate gift for Christmas. This contemporary collection features some of Butlers Chocolates newest recipes including;
Spiced Chai
Salted Almond Crocant
Chocolate Flake Truffle
Perfect with a cup of tea or a glass of wine and a good book of course.
Personalised Chocolate Gift Hampers
Is your mouth-watering after reading our blog post on Butlers Chocolate Ireland? Ours most definitely is. Are you thinking about creating your own luxury chocolate gift box for that chocolate lover in your life? Go ahead and do it here and make sure that our Butlers Chocolate Gifts are added to your Book Resort gift box for the ultimate chocolate experience!
Chocolate Gifts Ireland
Did you know that when you shop with us you are supporting over 100+ Irish companies and suppliers? Butlers Chocolate Ireland is one of our most highly requested suppliers due to their amazing chocolate products. When you purchase the chocolate gifts available on our website you are guaranteed Irish and local produce. Not only are you guaranteed the best Irish chocolate gifts but you are also supporting so many small Irish businesses that deserve the recognition for all the hard work they put into their products. In short you are keeping it local.
Bookish Gift Boxes
Looking to create that ultimate luxury bookish gift this year? Look no further than Butlers Chocolate with The Book Resort. We've got all your gifts and special occasions covered.
Make sure to sign up to our email list to keep up to date with all our old and new suppliers. We also offer exclusive deals and discounts to our email list!
We are just heading to the kitchen to grab some chocolate….
The Book Resort Team x
We have a special offer at the moment, where you receive a free subscription box if you sign up for a 6 month subscription.  Click here for more information.