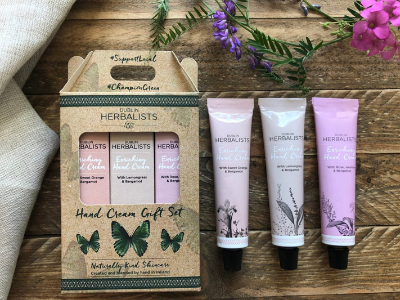 Dublin Herbalists
Dublin Herbalists Reviews
Do you purchase your skincare products without giving much thought to them? Do your skincare products match your skincare routine? Do you have go-to skincare products or skincare brands that you use religiously? Well if you do or if you don't - now you will. Dublin Herbalists skincare products are to die for. Here at The Book Resort we have tested enough skincare products to know what works and what doesn't and let us tell you, Dublin Herbalists have some of the best skincare products in the Irish skincare market. Dublin Herbalists skincare products are most definitely something to write home about.
Skincare Routine
Having a good skincare routine is the key to success when it comes to getting that youthful, anti-ageing skincare routine locked in. The skin is the largest organ in the human body so why do we treat it as if it is something less? Skincare is just as important as both physical and mental health and so, we want you to have the best experience as possible with the skincare products you decide to choose and use on your skin.
Dublin Herbalists skincare products do exactly this with their organic and natural skincare ingredient list! To ensure that healthy and youthful glow that you may find your skin lacks, particularly in the winter time in Ireland, local and natural ingredients are a must! Dublin Herbalists skincare products incorporate just that by using skincare ingredients such as;
Active ingredients
Natural oils
Natural butters
Floral waters
Essential oils
Did you also know that by purchasing your Dublin Herbalists skincare routine products from us at The Book Resort you are also shopping local and keeping it Irish!  Check out some online and video reviews here;
Emma Marie - Dublin Herbalists Review https://youtu.be/8Niiiw8ldbs
The Healthy Tart - Dublin Herbalists Review https://thehealthytart.com/i-decided-switch-natural-skin-care-products/
Who are Dublin Herbalists?
Dublin Herbalists are a skincare range that promotes individuality and modernism all whilst encouraging natural and organic freedom in their skincare products. Dublin Herbalists was founded in 2012 by Claire Brett who has proudly created Dublin Herbalists skincare recipes herself. As it stands, Dublin Herbalists collection includes over twenty skincare products for the face, body and baby, all created with naturally sourced ingredients. We have some of Dublin Herbalists best and most sought after products available on our website today. Let us tell you about them.
The Best Skincare Products
The Body
As the winter approaches and we begin to cover up in cosy (but definitely itchy) jumpers in a bid to keep ourselves warm, it is important that we look after our skin as it is put through its paces for the winter months. A luxurious skincare routine for your body is just as important as a skincare routine for your face. We have carefully selected Dublin Herbalists best skincare body products for you to try out this winter;
Dublin Herbalists Hand Cream 30ml – This product from Dublin Herbalists is perfect for any workers hands and fits neatly into even the most basic skincare routine. Be prepared for those irritated, sanitised, dry and flaky hands this year with Dublin Herbalists hand cream that will be sure to keep your hands feeling rejuvenated and fresh this winter.
Dublin Herbalists Mango Body Butter – With ingredients like mango and avocado butter it is of no surprise that Dublin Herbalists skincare products are the best skincare products for 2021. This vegan skincare product will nourish, soften and smooth those dry and cracked skin cells in a bid to create an overall luxurious experience for the ultimate skincare routine.
Dublin Herbalists Whipped Shea Butter – With a hint of sweet almond oil this Whipped Shea Butter is certain to leave your hands and feet feeling soft and rehydrated this winter. Kick the winter boots to the curb and make sure to use this heavy duty hydrator for your hands and feet! This skincare product is truly a seamless addition to any skincare routine.
Dublin Herbalists Exfoliating Body Scrub – Exploring that pale Irish complexion this winter or looking to continue the tanning process once a week? This Dublin Herbalists exfoliating body scrub will gently enable you to do both! With fine pink Himalayan sea salt to buff and replenish dull and dry skin, this invigorating scrub leaves your skin hydrated and polished – ready for any look you want to rock this winter. Add this to your skincare routine for the ultimate and most luxurious skincare routine you can imagine.
The Baby
Dublin Herbalists Baby Oil – The most essential skincare product to nourish your baby's delicate skin. This Dublin Herbalists vegan skincare product calms, relaxes and nourishes and will most definitely leave both you and baby feeling calm and rejuvenated after your afternoon skincare routine.
Dublin Herbalists Baby Balm – The ideal Dublin Herbalists product for your baby's skincare needs. With natural ingredients only, this skincare product should be stored away from direct sunlight in order to guarantee best use and longevity from this baby skincare product!
The Bath
Dublin Herbalists Bath Bombs x3 – Simply tripled – one is never enough!
Shop all Dublin Herbalists products here.
Now since you've gotten this far do you want to know a little bit more about Dublin Herbalists such as…
What are the best Dublin Herbalists products?
The Book Resorts selection is most certainly the best skincare products from the Dublin Herbalists range. They last a lifetime and are a guaranteed staple in our skincare routine. However if we had to choose one we would highly recommend Dublin Herbalists best-selling exfoliating body scrub – it is to die for!
How should I store my Dublin Herbalists skincare products?
You should store your Dublin Herbalists skincare products in a cool, dry place and away from direct sunlight for best use!
Are Dublin Herbalists Products vegan?
Dublin Herbalists products are handmade and blended in Tipperary. They use vegan and organic ingredients that include no parabens, sodium lauryl sulphate or other abrasive hidden additives. Dublin Herbalists skincare products are also not tested on animals – amazing!
You check out the Dublin Herbalists website here.
As always, let us know if you try any of our recommended skincare products and most definitely try to read more books!
The Book Resort Team x
We have a special offer at the moment, where you receive a free subscription box if you sign up for a 6 month subscription.  Click here for more information.