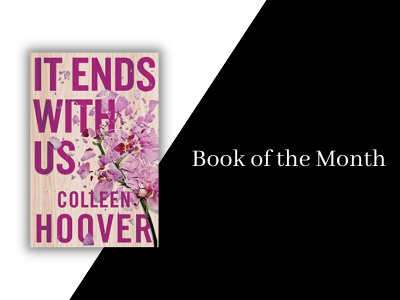 It Ends with Us by Colleen Hoover Book Review
It Ends with Us by Colleen Hoover Book Review
We have a special offer at the moment, where you receive a free subscription box if you sign up for a 6 month subscription.  Click here for more information.
If you're on the hunt for some information about the author that blew up in 2021, Colleen Hoover, you have come to the right place. 
For the past six months our book club members and Instagram followers have been pleading with us to read and review Colleen Hoovers bestseller, It Ends with Us. We were told it was a book not to be missed and that, we can assure you, is certainly a true statement in our expert opinion (after all, we read and review books for a living)!
Jam packed with the highest of highs and the lowest of lows, this book was incredible and we're here to give you a complete rundown of It Ends With Us, Colleen Hoover's writing style, why you should read this book and how to get involved in The Book Resort book club to discuss it even further (without spoiling it of course)!
A Difficult Twist
Now don't get us wrong here, at the core, the storyline is based around domestic violence and how it can affect individuals so deeply without them even realizing it. A harrowing storyline with a romanticized twist -It Ends with Us was the ultimate page turner but we can't lie, it was a little bit frightening all the same! 
Following the life of Lily, a woman who works undeniably hard for what she wants, Hoover makes the reader fall in love with her falling in love. Lily first stumbles across her love interest in this book, Ryle, on a rooftop in Boston. They part ways after an initial chat and then stumble across each other again - sounds like the dream right? We thought so too.
Ryle Kincaid is what we'd call the 'perfect' man for a love story. As a stunning neurosurgeon with charisma to burn, Hoover portrays him to us as a man that has it all and just needs the perfect other half to top it off - which of course will be Lily. We follow the deep development of their relationship and, as a reader, it is easy to feel involved. The best type of books are the ones in which you can insert yourself - that's why a good love story is always a winner. But, as the honeymoon phase dwindles quite quickly, Lily and Ryle's relationship becomes overwhelming as violent tendencies creep into Ryle's behavior that Lily seems to look past time and time again. But never before an apology, which we think is her coping mechanism.
Actions worsen however when Lily recounts her first true love, Atlas, a homeless boy from her hometown. It is as though she manifests him reentering her life when she bumps into him in a restaurant - his restaurant to be exact. This is almost frustrating when you are the reader because you truly believe that Lily and Ryle's relationship is worth fighting for and that Atlas is going to ruin it. Having once found home in Atlas as a person, Lily finds herself falling into the same pattern when she begins to turn to him in times of need or when Ryle drives her too it. 
But at what cost I hear you ask? That's for you to find out when you read it!
Right Person, Wrong Time?
When Atlas enters the plot and Lily begins to remember her childhood and all the trauma it had in it, we see why Lily puts up with the issues her and Ryle's relationship has. Right person, wrong time truly plays a part here when we see just how much Atlas has an impact on her new life in Boston.
Colleen Hoover 
It has to be said that we are now huge fans of Colleen Hoover. Her style of writing is second to none. It's a style we can only describe as adaptable - we truly believe that anyone could read this type of writing and if not enjoy it, take something from it. Always a sign of a good writer in our opinion! 
The way in which she powerfully illustrates the devastation of abuse—and the strength of the survivors is impeccable and we have to commend her for that. 
Book Club
We were delighted to be able to read this alongside our book club members - they voted for this book as our April book of the month and we are most certainly glad they did! 
With over 1300 members who all have strong, differing opinions on writing, authors and books, we think it is imperative to include some of their thoughts in this review so you can get a real feel for this book. So, here is what some of our book club members had to say about Colleen Hoover's It Ends With Us;
"Already in the top 3 of my favorite books of this year" mentioned Aine and we couldn't agree more! We've read two more of her books since! 
"This is the first book I've read by this author. I loved it." - Betsy 
"I thought it was a really good read, I'd definitely read more from her. Agree 8.5/10" - Sinead  
A book that leaves you with a pit in your stomach wondering what happens after the last page is a winner in our eyes. That is why we are ecstatic that Hoover is bringing out a sequel. 
We are most definitely going to read it - are you? 
Book Recommendations 2022
If you're still apprehensive and want to read something else by this author first or you've already read this book and also want to read something else by this author, we recommend you read Verity by Colleen Hoover (which is not her typical style but still undoubtedly excellent). 
Or why not join our book club? Something tells me we will definitely be reading the follow up, It Starts With Us. 
We have a special offer at the moment, where you receive a free subscription box if you sign up for a 6 month subscription.  Click here for more information.
Make Yourself at Home Book Review
Acts of Desperation Book Review