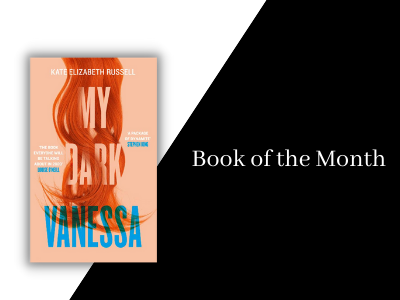 My Dark Vanessa by Kate Elizabeth Russell Book Review
My Dark Vanessa by Kate Elizabeth Russell Book Review
We have a special offer at the moment, where you receive a free subscription box if you sign up for a 6 month subscription.  Click here for more information.
With many trigger warnings throughout this novel, we just wanted to give you a heads up before you delve into this book review or decide to pick My Dark Vanessa, that this novel discusses elements of abuse and grooming.
Kate Elizabeth Russell is an American author who's novel, My Dark Vanessa was a well-deserved New York Times and Sunday Times bestseller.
During the course of this novel, the reader is transported back and forth between the years 2000, when the protagonist red headed Vanessa Wye was fifteen years old, and the present day, 2017, when Vanessa is 32 and experiencing turmoil and trauma endured during her teenage years.
We delve into Vanessa's past as she discusses the time when she arrived at boarding school and fell into what she believed, at the time, to be a deep and dark 'romance' with her English literature teacher, Jacob Strane, who was forty two.
In the present day Strane, as Vanessa refers to him, is facing several abuse allegations from girls who previously attended the boarding school where he taught English literature for over twenty years. In the midst of these allegations we follow Vanessa's train of thought as she believes that what she had with Strane was not necessarily abuse, but a deep dark love that both parties attempted to justify through the medium of consent, which can be argued today was never present on Vanessa's behalf what with her being under the age of consent. With Strane using communication tactics such as reassuring Vanessa that she is in charge of their relationship and that it will only go as far as she wants it to go, we still experience the naivety of the teenage mind as Vanessa takes the things Strane says to her as gospel, even though his actions condone something much more sinister than an innocent and eager love that he proclaims and she believes they have together.
After another victim of Jacob Strane's abuse contacts Vanessa in the present day, her world is turned upside down. In addition to this, a journalist who harasses her at work pressing for an interview about her relationship with Strane promises to condone what he 'did to her' in the news. For the remainder of the novel, Vanessa battles back and forth with how her teenage years were shaped by this overbearing love for her English teacher and why she doesn't consider herself to be a victim. However, slowly over the course of the novel Vanessa tries to deal with her inner turmoil, eventually coming to the realisation that the relationship did not unfold as she believe it did and how it wasn't exactly what she thought it was.
In addition to the storyline between Vanessa and Strane, we gain an even greater insight into the complicated relationships in Vanessa's life with her parents, classmates and friends and how she felt like she never fitted in. These relationships and characters are very fitting and relevant and, like people in everyone's life, aid the unearthing as well as the unfolding of Vanessa's complicated character.
These relationships (or lack thereof) are particularly interesting as Vanessa knew that this is what made her, from Strane's perspective; stand out from the crowd – innocence and vulnerability. With Strane's consistent reassurance about this aspect of her personality and social style, she often further distances herself from others. Whilst yearning for adulthood, Vanessa believes that this situation she is in is her own doing and is fully content with the idea that it is she who is making the decisions, even though she is not.
Throughout this spine tingling piece of literature, we, the reader, get the opportunity to delve into, follow along with and almost feel the way that Vanessa feels for Strane, the first 'love' of her life. Yet, at the same time we are gaining clear evidence that what is happening here is a clear case of underage abuse and grooming. This striking balance often left us feeling confused or overwhelmed by the situation as well as their relationship, yet we couldn't put the novel down. Russell strikes a balance in Strane's character which causes this confusion. Strane is given a powerful yet submissive narrative by Russell and it is impossible not to get sucked into how Vanessa sees him, both the good and the bad. This striking balance produced in the characters as well as the novel as a whole, is beyond insightful and smart. It leaves the reader feeling both angry and intrigued about where the story is going to go. Russell must be commended for this.
The subject and topics covered in this novel are so important, particularly in this day and age where people are beginning to speak up about abusive relationships they have endured and are being commended for doing so. There is not one person on this planet that doesn't know how difficult the teenage years of your life are to navigate, and this book is the ultimate eye opener to this concept.
The contents of this novel were so well executed and Russell navigates the reader in a way that does not leave them wondering what is going to happen but also does not lend us the easiness of a happy ending or an easy read. This book raises so many questions about victim blaming and consent – it is impossible not to get sucked in.
With many dark scenarios and rawness, My Dark Vanessa is an utterly consuming and spine shivering novel that will leave you analysing the story line for a long time after you have finished it.
Let us know over on our Instagram or Twitter if you have read it and what you thought?
You can visit Kate Elizabeth Russells website here and find out more about her.
The Book Resort Team
We have a special offer at the moment, where you receive a free subscription box if you sign up for a 6 month subscription.  Click here for more information.
Make Yourself at Home Book Review
Acts of Desperation Book Review
The Midnight Library Book Review