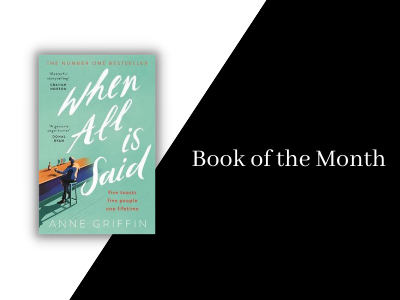 When All is Said Book Review
When All is Said Book Review
We have a special offer at the moment, where you receive a free subscription box if you sign up for a 6 month subscription.  Click here for more information.
Our book club is coming along nicely and growing every single day! We are thoroughly enjoying reading and discussing our chosen book of the month. For this reason we are hoping to make sure that our thoughts around these books are kept in a safe space, here in this little corner of the internet – The Book Resort Blog! This month's book club pick was When All is Said by Anne Griffin and we must admit, it was the ultimate short and sweet page turner.
When All is Said by Irish bestselling author Anne Griffin is an extremely moving novel that tells the tale of 84 year old Maurice Hannigan. As Maurice sits at the god forsaken bar of the infamous hotel that he owns, he reflects on his life over a series of drinks and toasts to those five people who have made his life so meaningful and memorable.
Anne Griffin really pulled at the heart strings with this one. As a fantastic contemporary fiction piece, old Irish traditional ideas and values are at the forefront of the novel as Maurice recounts numerous situations and scenarios throughout his 84 years. By offering the reader a deeper look into the old Irish ways of men in Irish society, how they cope with life, feelings and trying to express themselves to those they love, you can't help but hear your own heart break as Maurice remembers, regrets and relives the most monumental parts of his life on this planet. It is fantastic to see so many pressing issues at the forefront of this novel that are deeply rooted in Irish tradition. When we reflect on the Irish societal values placed on and toward men in the past and be able to view them from the perspective of Maurice, a traditional Irish man who's shoes are easy to step into through his honest and insightful thoughts, we can gain a greater appreciation for how things are now in today's society.
This short yet fixating novel is the ultimate heart-breaking, emotional rollercoaster that will have you full of tears from both laughing and crying - the best combination. It is an easy read that allows a deeper insight into the life and times of a man who found it hard to show those around him that he cared about them in an emotionally responsible way. Even though the story centres on a single night in his life, we ultimately gain access to the entirety of his life with both the highs and lows being laid out to us on a platter of emotions with a side of long neck stout.
With always bearing his son Kevin in mind, his special relationship with his wife Sadie, who had passed two years previous, is what has prompted him to be in the position he is in now and all he wants is to once again be at her side. This relationship really captures the true meaning of love and how it can affect you so deeply, particularly when you lose a loved one (without the cringe moments).
We have to give Anne Griffin a round of applause for this novel. It was absolutely fantastic and really had us reminiscing on what we would do when all is said and done. Many have found a replica of Maurice in their own life and gained respect for the cranky old man.
How would you feel and what would you think about your life when all is said?
Don't forget to let us know if you've read the book and enjoyed it as much as we did! Catch us reviewing it in our Facebook Book Club as well as our Instagram: @thebookresort.
You can visit Anne Griffins website here and find out more about her.
The Book Resort Team x
We have a special offer at the moment, where you receive a free subscription box if you sign up for a 6 month subscription.  Click here for more information.
Make Yourself at Home Book Review
Acts of Desperation Book Review
The Midnight Library Book Review