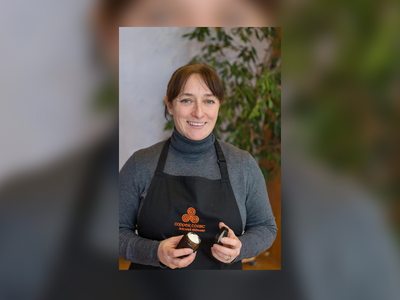 Women in Business in Ireland - Victoria from Copper Coast Natural Skincare
A firm favourite with our customers, Copper Coast Natural Skincare originated when a mum could not find products suitable for her child.
Tell us about yourself, where are you from and what business do you run?
I'm Victoria Flanagan, I've lived in Dunhill on the Copper Coast in Co. Waterford for the last 14 years. I am the owner of Copper Coast Natural Skincare, I produce a range of hand made natural skincare and home fragrance products.

What made you decide to set up your own business?

As a baby my son had very sensitive skin and at the time there were very few products on the market that were natural i.e. did not contain ingredients that irritated his sensitive skin. I decided to research into skincare ingredients which lead to me studying a course in Natural Skincare formulation. After creating some products for ourselves, I introduced them to friends and family and found that there was a demand for natural products so I decided to launch Copper Coast Natural Skincare. As the business developed I extended the range to include soy wax candles and reed diffusers

What do you love about running your own business?

I love running my own business as I am responsible for everything and can make on the
spot decisions, it also enables me to fit a career around my family life.

And the parts you don't love?

It can be hard working on your own when wanting a second opinion on something or
trying to manage time between making products, running and promoting the business.

What was your biggest learning curve?

Ideas and projects can take a lot longer to complete than you anticipate.

What would be your advice to other women in business or thinking about starting out?

Fully research everything as much as you can, what ever you think you need financially
to set up double that amount! As long as you believe in what you are making,
producing, selling take that step and go for it. Take as much advice and support as you can.

We know you are very busy, how do you take care of yourself?

I enjoy time with my family, and generally chilling out going for walks, having a dip in the sea etc.

How can people support small Irish businesses?

Look to them first when you are looking for a product or service, especially in a small business you will always find that they are happy to help and offer advice on products. Tell friends and family about the products, recommendations are great for any business.
Tell us a book/podcast/other business that you admire/would recommend.

One of the other business other than yourself that I admire for supporting local
businesses is Finders Keepers.