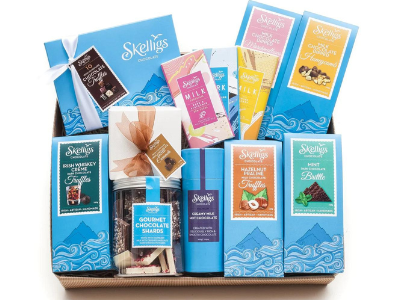 Skelligs Chocolate

The Best Chocolate Gifts from Skelligs Chocolate

We all know that Irish chocolate is like no other and it is of no surprise that chocolate is the best gift to add to a luxurious gift box or hamper. We also know that you most definitely have a chocolate lover in your life that is always delighted by a chocolate gift for their birthday or as a Christmas present. Chocolate gifts never get old – just tastier (especially Irish chocolate!).
That is why we often incorporate a selection of chocolate gifts into the majority of our gift boxes here at The Book Resort. There is nothing quite like sitting down to read a fantastic new book whilst opening a delicious and luxurious Irish handmade chocolate gift. We will choose the perfect book to accompany the chocolate.

The Best Chocolate Hampers

As we grow as a company and as Christmas time approaches, we have been searching for some of the best Irish gifts and Irish chocolate for our everyday hampers and Christmas gift boxes. Do you continuously find yourself searching for gifts for her or gifts for him? We've got you covered with our Irish chocolatiers.
We love chocolate gift boxes and we know that you do too because we always get fantastic feedback about our chocolate gift suppliers and our luxury chocolate gift boxes. Here's what some of our customers have said about our Irish chocolate gifts;
"I ordered a gift box for my Mum for her birthday, she was absolutely delighted with it. It ended up being a gift for my Dad too, as he read the book afterwards. They said it arrived beautifully wrapped and presented. It was the first time I've ordered with The Book Resort and they were very friendly and approachable for customer care and support. Really pleased with their service, so much so that I've ordered another gift box for Father's Day. 5 stars doesn't seem enough. If you want a unique and perfectly presented book gift, visit their website.." – Miriam
"Easy website to use with options to pick a hamper or to create your own. I went with create, great selection of goods and once checked out there was regular updates to track delivery.
Person that received the delivery was delighted and the handwritten card really added to the gift. Thanks!." – Lisa
"Ordered a gift for my girlfriend and The Book Resort went above and beyond in delivering.  They were so helpful and shipped as needed, included a custom message for my partner.  Upon receiving I found out they also included an extra birthday card - just fantastic service couldn't recommend enough.  As for the contents of the box, it was all a luxury treat described to me as "very bougie". Girlfriend was delighted and can't wait for her next box." – Adam
Feeling peckish yet? Us too.
Skellgs Chocolate Ireland


Skelligs Chocoate factory opened in 1996, with two little production rooms, one for making the delicious Skelligs Chocolate and the other for packaging. ­ Skelligs Chocolate started with a staff of 4, one chocolate wheel machine and a passion for chocolate making that is still evident today.
From the start they were amazed at how people found them in such a remote location and in May 2010 we extended the factory to deal with increased demand from shops and visitors. But then…
Just as the newly extended factory was working to full capacity to prepare for the busy 2010 Christmas season, devastation hit and the factory was burned to the ground. ­ Luckily no one was hurt and within a year, 2012 saw the opening of the new state of the art Skelligs Chocolate production facilitity which is 10,000 sq. feet.
Skelligs Chocolate is a rare gem in probably one of the most unusual and beautiful locations for a chocolate factory.
Skelligs Chocolate were nominated by Failte Ireland as one of   '50 secret destinations of the Wild Atlantic Way'. 
If you're looking for the best chocolate gifts in Ireland or the best chocolate to add to your chocolate gifts, look no further than our gourmet chocolate gifts from Skellgs;

Skelligs Chocolate Salted Caramel Gift Box

These chocolate salted caramels from Skelligs Chocolate are the perfect addition to any chocolate gift box or chocolate hamper. This chocolate gift is a truly delicious combination of yummy soft caramel covered in milk chocolate with a hint of Irish Atlantic Sea Salt.  Beautifully presented in a lovely cream box and finished with a matching hand-tied ribbon. Sound a bit like you?

Skelligs Chocolate Truffle Gift Box

The Skelligs Chocolate Truffle Gift Box is one of our most popular additions to our gift boxes and we consider it one of the best chocolate for gifts for that person in your life who has got a sweet tooth. This beautiful box of chocolates, featuring a luxury selection of unique chocolate truffles has been specially crafted by Butler's chocolatiers to create that perfect chocolate gift. If this isn't the best Irish chocolate gift, we don't know what is.
We suggest that you keep Skelligs Chocolates in mind when creating your own personalised gift box – especially if it's a Christmas present! It is the perfect chocolate gift for Christmas.
Perfect with a cup of tea or a glass of wine and a good book of course.

Personalised Chocolate Gift Hampers

Is your mouth-watering after reading all about Skelligs Chocolate Ireland? Ours most definitely is. Are you thinking about creating your own luxury chocolate gift box for that chocolate lover in your life? Go ahead and do it here and make sure that our Skellgs Chocolate Gifts are added to your Book Resort gift box for the ultimate chocolate experience!

Chocolate Gifts Ireland
Did you know that when you shop with us you are supporting over 100+ Irish companies and suppliers? Skelligs Chocolate is one of our most highly requested suppliers due to their amazing chocolate products. When you purchase the chocolate gifts available on our website you are guaranteed Irish and local produce. Not only are you guaranteed the best Irish chocolate gifts but you are also supporting so many small Irish businesses that deserve the recognition for all the hard work they put into their products. In short you are keeping it local.

Bookish Gift Boxes

Looking to create that ultimate luxury bookish gift this year? Look no further than Skelligs Chocolate with The Book Resort. We've got all your gifts and special occasions covered.
Make sure to sign up to our email list to keep up to date with all our old and new suppliers. We also offer exclusive deals and discounts to our email list!
We are just heading to the kitchen to grab some Skelligs chocolate.
The Book Resort Team x
We have a special offer at the moment, where you receive a free subscription box if you sign up for a 6 month subscription.  Click here for more information.