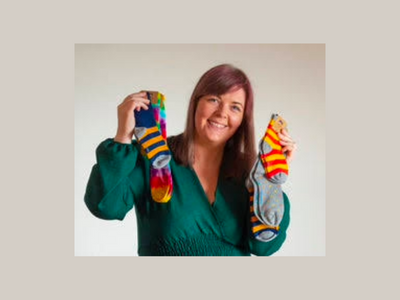 Women in Business in Ireland - Polly from Polly and Andy Socks
Another Waterford female business owner is Polly who founded Polly and Andy a number of years ago.  
Tell us about yourself, where are you from and what business do you run? 
My name is Polly, I'm originally from Carlow but I'm living in Waterford 24 years now 
What made you decide to set up your own business?
I needed super socks with seamless toes wasn't available so I took matters into my own hands and I created it.
What do you love about running your own business?
Love selling! Chatting and meeting new people. I'm so passionate about my sock babies that I love to talk about them.
And the parts you don't love?
You can end up working on your own a lot but once you find a business family then there's always whatsapp 
What was your biggest learning curve?
Everything was so new to me but the bits like book keeping, tax and vat were my biggest struggle.
What would be your advice to other women in business or thinking about starting out?
Find a like minded crew. Join the Acorns program, visit markets and ask all the questions. Business owners love to share their knowledge.
We know you are very busy, how do you take care of yourself?
Sleep. I have learned how to rest. Also a swim out in the Guillamenes will sort you out for the day.
How can people support small Irish businesses?
Tell friends and family about a business  you love.
Tell us a book/podcast/other business that you admire/would recommend. 
Book – The nightingale…just read it. Actually I might read it again.
Podcast – Irish history podcast is really interesting. Love My therapist ghosted me as well. Very funny.
Business – so many to name but I need to shout out my lovely shop in Waterford city cc creatives.
Visit Polly and Andy.