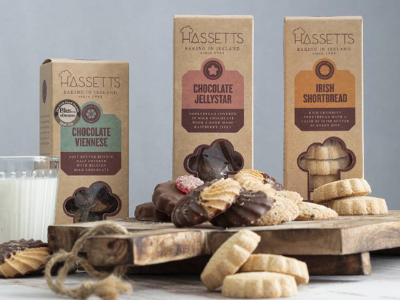 Hassetts
The Best Biscuit Gifts from Hassetts Bakery

We all know that Irish shortbread is like no other and it is of no surprise that biscuits are the best gift to add to a luxurious gift box or hamper. We also know that you most definitely have a biscuit lover in your life that is always delighted by a biscuit gift for their birthday or as a Christmas present. Biscuit gifts never get old – just tastier (especially Irish biscuits!).
That is why we often incorporate a selection of biscuit gifts into the majority of our gift boxes here at The Book Resort. There is nothing quite like sitting down to read a fantastic new book whilst opening a delicious and luxurious Irish shortbread gift. We will choose the perfect book to accompany the biscuits

The Best Shortbread Hampers

As we grow as a company and as Christmas time approaches, we have been searching for some of the best Irish gifts and Irish biscuits for our everyday hampers and Christmas gift boxes. Do you continuously find yourself searching for gifts for her or gifts for him? We've got you covered with our Irish suppliers.
We love biscuit gift boxes and we know that you do too because we always get fantastic feedback about our Hassett products and our luxury biscuits gift boxes. Here's what some of our customers have said about our Irish shortbread gifts;
"The Book Resort is a brilliant service, I've used it twice to send gift boxes as birthday presents and both recipients loved the gifts. Great way to support Irish companies, would highly recommend." – Lauren
"I have both received and sent Book Resort boxes and it is such a brilliant idea. The people I sent them to loved them. The one I sent to my best friend for her birthday had a book that was absolutely perfect for her! It was easy to order and arrived to her within a couple of days. Having sent boxes I was delighted to also receive one for my birthday this week. They are so beautifully packed and the contents are of such good quality...and Irish! Even better!– Nazareen
"Fantastic and thoughtful service. I have ordered on two occasions and on each occasion, the recipient was bowled over both by the presentation and contents of the box. The Book Resort are brilliant to deal with if you have any questions or requests, e.g. a dairy allergy requiring dairy-free chocolate; they respond quickly and accommodate cheerfully. Both recipients of my gifts went on to use The Book Resort themselves for gifts for others. It's well worth considering for sending a gift to someone you love - minimal effort for you, maximum results for the person you love!! I could not recommend them enough!." – Lisa
Feeling peckish yet? Us too.
Hassetts Bakery Ireland

Michael Hassett's passion for baking flourished in the early 80s during his time working as a trained chef in multiple cities throughout Europe.  On returning to Ireland, Michael decided to pour all his zeal and expertise for baking into his very own establishment and in 1984, Hassetts Bakery was born.  From humble beginnings, the wholesale bakery began producing high quality confectionery using the finest local ingredients and with its influence from countries like France, Hassetts quickly stood out in the retail sector.
With promising encouragement from customers, Michael went on to open his very first shop in 1988.  A few years later in 1995, he expanded and opened a second shop and cafe in the beautiful suburb of Carrigaline.  Hassetts have stores in Douglas, The English Market and Carrigaline. They are proud recipients of multiple awards such as Blás na hÉireann, Great Taste, Artisan Business of the Year and Best Cork Export Business.   Hassetts even hold a spot in the Guinness World Book of Records.
Now over 35 years on, Hassetts offer a wide range of products including freshly baked artisan breads, luxury desserts, cakes for all occasions, as well as award winning biscuits, cookies and crackers. Every morning Hassetts bakers start the day by using fresh local ingredients to produce the highest quality bread and cakes.
Hassetts continues to grow and develop each and every year and their dedication to using fresh, high quality local ingredients never wavers. Currently Hassetts are the leading supplier of confectionery products to the retail and food service industry throughout Ireland.

Hassetts Shortbread

These shortbread biscuits from Hassetts Bakery are the perfect addition to any gift box or hamper.  Handmade in small batches, and slowly baked, we use just four simple ingredients to make our Irish shortbread; creamy butter from grass fed Irish cows, flour, sugar and rice.

Hassetts Jellystar Cookies

Hassetts Chocolate Jellystar shortbread is a sensation. Their chocolate covered jellystar is made with only the best of locally sourced West Cork produce. Smothered in luxurious milk chocolate and topped with handmade raspberry jelly.

Perfect with a cup of tea and a good book of course.
Hassetts Chocolate Vienesse

Inspired by Austrian pastries, Hassetts chocolate viennese swirls are handmade by piping soft butter shortbread biscuit in to a whirl shape, slowly baked, and then hand dipped in a luxurious Belgian milk chocolate coating. A little piece of heaven.


Personalised Biscuits Gift Hampers

Is your mouth-watering after reading all about Hassetts Bakery Ireland? Ours most definitely is. Are you thinking about creating your own luxury biscuit gift box for that biscuit lover in your life? Go ahead and do it here and make sure that our Hassetts Bakery Gifts are added to your Book Resort gift box for the ultimate experience!

Biscuits Gifts Ireland

When you shop with us you are supporting over 100+ Irish companies and suppliers? Hassetts Bakery is one of our most highly requested suppliers due to their amazing biscuits products. When you purchase the biscuits gifts available on our website you are guaranteed Irish and local produce. Not only are you guaranteed the best Irish biscuits gifts but you are also supporting so many small Irish businesses that deserve the recognition for all the hard work they put into their products. In short you are keeping it local.

Bookish Gift Boxes

Looking to create that ultimate luxury bookish gift this year? Look no further than Hassetts Bakery with The Book Resort. We've got all your gifts and special occasions covered.
Make sure to sign up to our email list on our website to keep up to date with all our old and new suppliers. We also offer exclusive deals and discounts to our email list!

We are just heading to the kitchen to grab some Hassetts.

The Book Resort Team x
We have a special offer at the moment, where you receive a free subscription box if you sign up for a 6 month subscription.  Click here for more information.