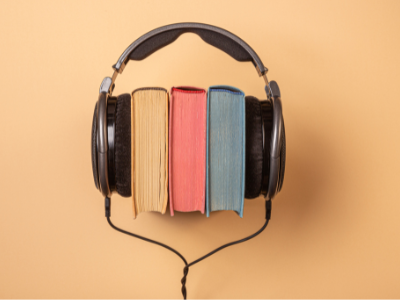 The Pros and Cons of Audiobooks Versus Physical Reading: Which is Better?
The Pros and Cons of Audiobooks Versus Physical Reading: Which is Better?
We have a special offer at the moment, where you receive a free subscription box if you sign up for a 6 month subscription.  Click here for more information.


There has always been a lot of debate lately about audiobooks versus physical reading. Which is better? Some people swear by audiobooks and their benefits such as being able to listen to them whilst driving or exercising, while others believe that there is no substitute for reading a book in its original, physical form. So, which is the right choice for you? In this blog post, we will explore the pros and cons of both options and help you decide if an audiobook, physical book or a combination of both is best for your needs!
Audiobooks | What do they bring to the table?
Almost all books are available in audio format these days which has lead to the increase in popularity of audio books over the last few years. Although we could debate for years about how there is nothing quite like the experience of purchasing a new book, or having your book subscription arrive at your house for indulgenct consumption, audiobook DO in fact have many benefits over physical books. Here's just a few:
One of the main benefits is that you can listen to them whilst doing other things such as driving, cooking or cleaning. This means that you can easily fit listening to an audiobook into your busy schedule as it requires no physical labour of holding the book or trying to physically intake and process information in the form of written word

Audiobooks are often cheaper than buying the physical book, especially if you buy them from a subscription service or borrow them from your local library. This is huge as certain authors or titles can be super pricey in your local bookstore, particularly if it's a new release.

Audiobooks take you to a different place. We're all aware how reading can literally transport your mind to a different world. Audiobooks allow you to go somewhere different depending on the narrator. This can be a huge plus for people who respond well to aural communication and just like the sound of certain voices for example listening to Oprah Winfrey's book in her own voice - surely one of the most motivating listens to date?
Audiobooks | What are the drawbacks?
So, although there are many benefits to audiobooks, what are the drawbacks? We are all about the physical aspect of books here at The Book Resort so this may indeed be our cup of tea but let's be honest here - there is nothing quite like a brand new book! So let's dive straight into it, shall we?
The main drawback of audiobooks is that you can't physically hold the book in your hands. This may not seem like a big deal to some people, but for others, it's a huge downside. There's just something about being able to hold a book and feel the pages that cannot be replaced by an audiobook.

Another potential downside, depending on your personality or attention span is that it can be easy to get distracted when listening to an audiobook and miss important parts of the story. If you are too busy trying to focus on the road as you drive, you may not get from the book what you were originally expecting.

Another con is that you can't easily go back and forth between pages or sections as you can with a physical book. With an audiobook, you have to either rewind or fast-forward which can be frustrating, especially if you want to go back and revisit a particular section or passage.

Finally, some people simply prefer reading books in their physical form over listening to them. This is completely subjective for example if you have a beautiful bookshelf in your home - of course you are going to want to fill it with some amazing books! So, there you have it! The pros and cons of audiobooks versus physical reading.
Audiobooks vs Physical Books | What's for me?
A question we are commonly asked here is how do we find the time to read so many books? Do we use audiobooks instead? I don't like audiobooks and I don't have time to read, what can I do?
Well firstly, stop comparing yourself to others. Yes we post and talk lots about books all day everyday but that is because it is our literal job. We eat, sleep and breath books - it's what we do for a living.
Secondly, we understand. Finding the time to read can be difficult, especially if you're not really into audiobooks. This is where joining a book club or signing yourself up for a book subscription is a game-changer.
The Book Club
Joining a book club could be just the trick for you to overcome your reading slump! Virtual book clubs are a great way to push yourself to read more. It can be tough to stay motivated when you're reading on your own, but book clubs provide a built-in support system to help you reach your reading goals. Plus, they're fun! The Book Resort book club would be a great place to start because we have built an amazing community of people who adore all things books and make great recommendations on a daily basis - no judgement included!
Joining a book club is also a great way to connect with other readers from around the world and discuss the books you're reading. Virtual book clubs also give you the flexibility to choose when, where and even if you meet, making it easy to fit book club meetings into your busy schedule. If you're looking for a way to jump-start your reading habit, joining a book club is a great option. You might just find that it's the best decision you ever made.
Book Subscriptions
If joining a book club just isn't your thing [or even if it is], then maybe a more individual activity such as signing up to a book subscription is for you! Anyone who has made a New Year's resolution to read more books knows that it can be difficult to stay on track with your reading goals. Bookstores are full of temptations, and it can be all too easy to get sidetracked by the latest bestseller. One way to stay on top of your reading goals is by signing up for a book subscription. With a book subscription, you can choose to receive new books on a regular basis, ensuring that you always have something new to read. Additionally, book subscriptions can be tailored to your specific interests, so you can be sure that you're receiving books that you're actually going to enjoy. So if you're looking for a way to make your reading goals a reality, consider signing up for a book subscription.
The Debate Continues
So the question remains, do you prefer audiobooks or physical books? If you're still undecided, why not try a book subscription service like The Book Resort to start you off. 
We have a special offer at the moment, where you receive a free subscription box if you sign up for a 6 month subscription.  Click here for more information.