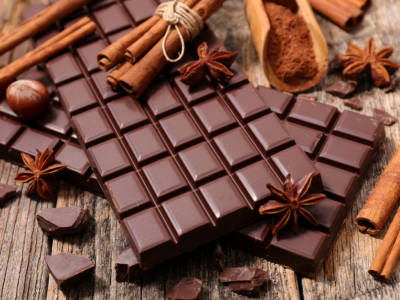 Our Favourite Chocolatiers
Our Favourite Chocolatiers
Introducing You Chocolate Lovers to Our Favourite Chocolatiers
Chocolate has to be the most versatile gift to grace planet earth! I mean, who doesn't like chocolate? If you don't, we don't believe you! Whether it is white chocolate, milk chocolate, dark chocolate, chocolate with nuts and chocolate with fruit - we love it all!
As it stands, there is such an incredible and wide range of fantastic chocolate available within the Irish market at the moment and so it is impossible not to make someone smile with the gift of chocolate!
Chocolate was always going to be a main component for us here at The Book Resort. What is it about reading a good book and enjoying luxurious chocolate that makes us so happy? Well a key ingredient (excuse the pun) is those who supply and create the luxurious silky smooth chocolate we all love and enjoy. This is why we want to introduce you to some of our amazing chocolate suppliers. We have a wide range of chocolatiers available here at The Book Resort that we pair with our gift and subscription boxes. All of our suppliers are absolutely amazing in their own unique way and that is why we stock them. They are also Irish sourced and produced and this is why we love them! We are all about keeping it Irish!
SKELLIGS CHOCOLATE      
Skelligs Chocolate is located in the fabulous kingdom of Kerry along the Wild Atlantic Way. They also have a production plant on their premises where you can get up close and personal with the silky smooth chocolate they make on site. Skelligs is one of our favourite chocolate suppliers and we always receive fantastic feedback about just how delicious their products are! Made by hand in Skelligs factory, each bar is hand foiled and wrapped and that is why their products are so special - because they are given so much TLC! Check out more about Skelligs Chocolate here and see for yourself their amazing products and chocolate hampers (they are to die for)!
HASSETTS
Hassetts bakery was founded in Cork in 1984 by Michael Hassett. Today, Hassetts offer a wide range of products including artisan breads and confectionery: cakes, desserts, biscuits, crackers, granolas, chocolates & ice creams. Hassetts shortbread is a personal favourite of ours here at The Book Resort and it often features in many of our gift boxes alongside so many other fantastic bespoke gifts! Handmade in small batches and slowly baked, Hassetts use simple ingredients to make their Irish delicacies and are perfect for that melt in the mouth experience. Sound like something you'd enjoy? (We know you would). Find out more information about Hassetts and be sure to visit their store the next time you're in Cork!
The Chocolate Garden of Ireland
An authentic artisan maker of Award-winning Chocolates, The Chocolate Garden of Ireland is another of our favourite chocolate suppliers. They are located on the Carlow-Wicklow border and with products such as hand-made chocolates, chocolate bars, all butter biscuits and luxury chocolate spreads, they are most definitely worth a visit during your next staycation! We are so happy to be able to supply and support a company as amazing as The Chocolate Garden of Ireland and the feedback we receive from our customers about their products is always positive! Find out more about The Chocolate Garden of Ireland here.
Marlene's Chocolate Haven
Coming into the winter months last year, here at The Book Resort we were desperate to keep the lockdown spirits up with some chocolaty goodness in our office and production premises. When we came across Marlene's chocolate Haven we just couldn't get enough of their 'Hot Chocolate Bombs'. Handmade in Westport, Marlene's chocolate products are some of the tastiest chocolate in the Irish market at the moment. At Christmas time we were inundated with orders for their chocolate bombs! This really speaks to just how amazing their company is! Check out Marlene's Chocolate Haven website here.
Whether it is in your own Book Resort Subscription Box or in a gift box for someone else, chocolate is the most amazing gift and you can be sure almost everyone will enjoy it! Make sure to give all these wonderful Irish businesses a follow on their social media platforms and let us know what you think of their amazing products!
Have a fantastic day and don't forget to eat more chocolate and read more books!
The Book Resort Team x
We have a special offer at the moment, where you receive a free subscription box if you sign up for a 6 month subscription.  Click here for more information.