Free Shipping & Free Returns in Ireland.  Same Day Delivery in Waterford City (5K radius) on request.
 We have had a massive amount of orders lately, please allow an extra couple of days for delivery!
Thousands of Boxes Shipped!
Customer Satisfaction Score 100%!
Free Shipping & Free Returns in Ireland!
Same Day Delivery in Waterford City (15K Radius) on request!
The Book Resort is a book subscription & gift box service based in Ireland.  
We deliver brilliant new books, delicious  chocolate & wonderful surprises to book lovers around the world. 
 Gift boxes ship worldwide daily. 
What do you get in your box?
A luxury box, beautifully presented with a brilliant brand new book, a generous decadent bar of chocolate, and an artisan  surprise from a small Irish business  delivered direct to your door.  We will also include a hand written card, created and designed by an Irish artist with a personalised message if you wish. 
All of our suppliers are Irish and you receive free delivery & free returns in Ireland.
Deserve a treat?  or Need a gift?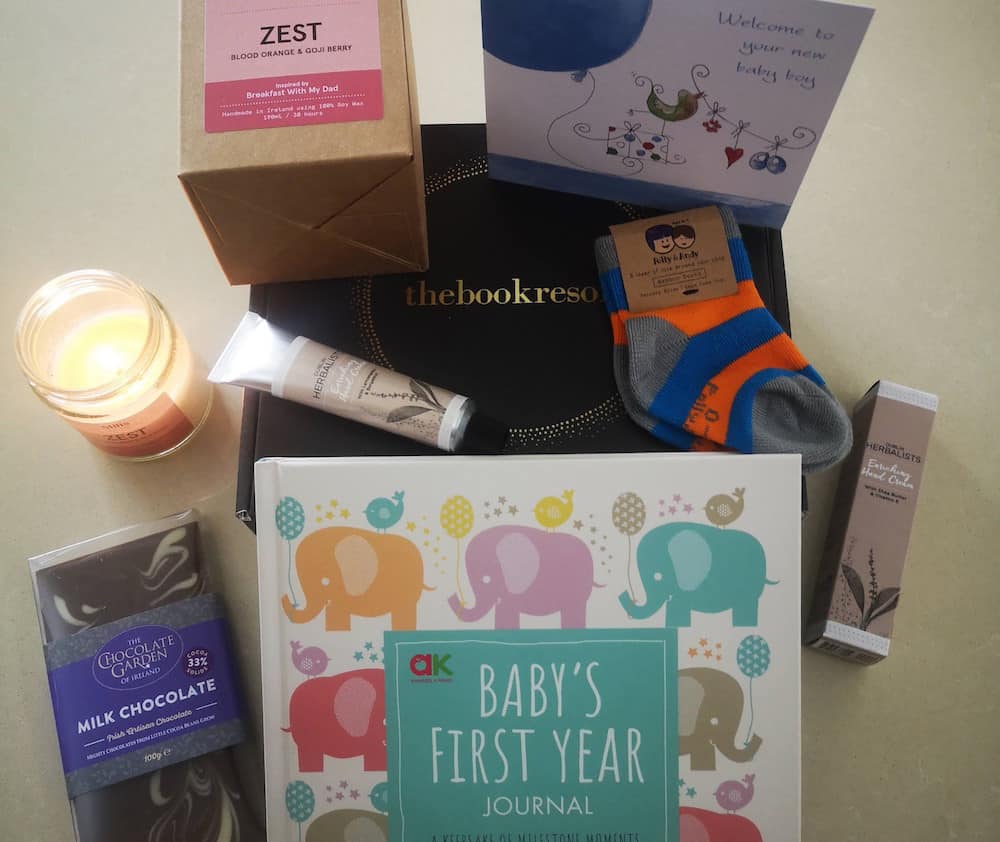 We have a wide range of one time boxes suitable for adults, kids & babies.  We will include a beautiful handwritten card if you wish, absolutely free.  One time boxes ship quickly, 1-2 days after you order.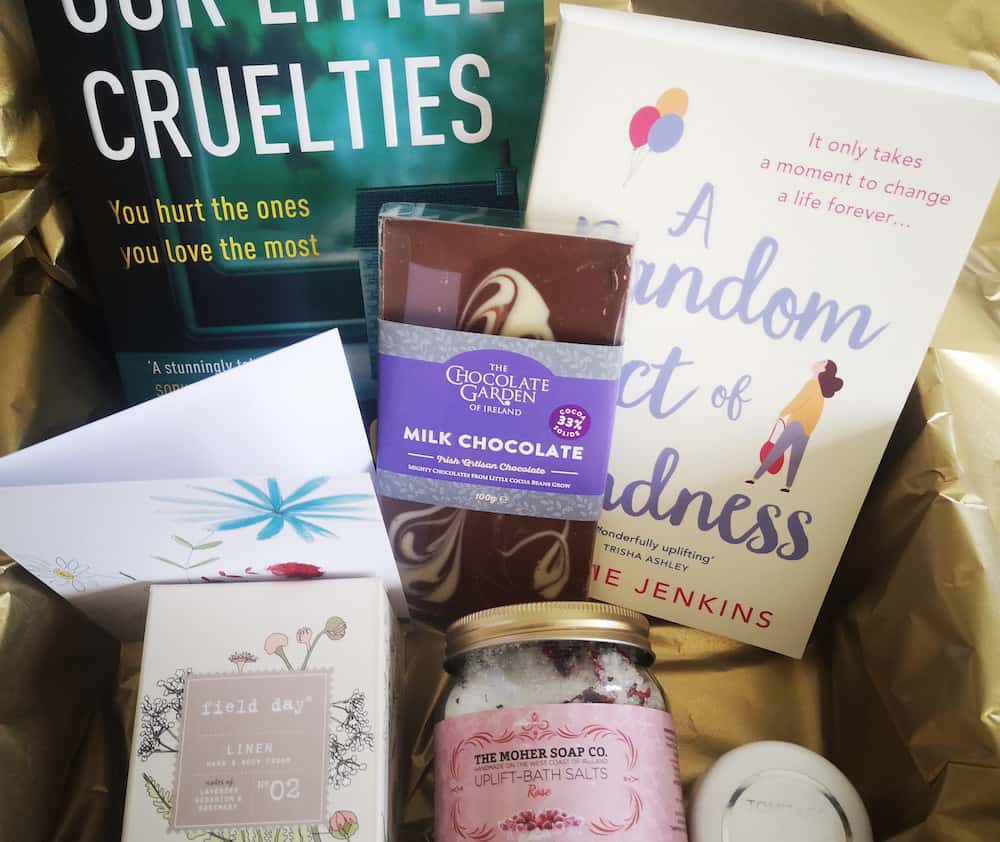 Ireland has some of the worlds best chocolatiers and artisan little businesses.  Sign up to try a different chocolate and gift every month from all over Ireland.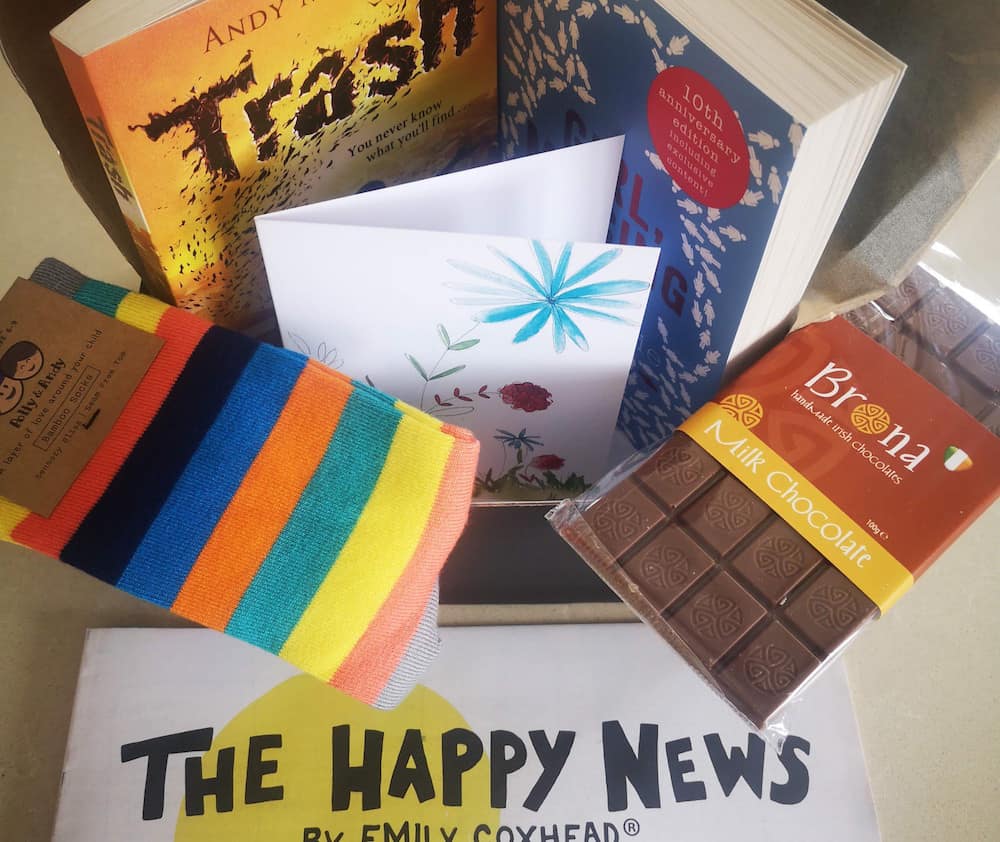 Give the gift of reading!
We send out brand new, recently published books every month.  If you or the recipient has read the book, we will send you another book immediately.  We don't ask for the first book back, you may keep/gift/donate it!
Special Edition One Time
"Confidence Box" for Teenage Girls
This wonderful box is packed with stuff to inspire confidence, reassure and show girls everything is possible.  Your gift box arrives beautifully wrapped and presented and contains the following:
"Confidence Code for Girls Journal" 😍
Love Luna Period Midi Brief (wash & wear period knickers) 💕
Friendship Bracelets created by a local designer in Waterford 🌈
Beautiful Card designed by Clare Jordan in Ireland👌
 
Free Delivery & Free Returns in Ireland 🚚
Brief Size can be noted in the checkout.  The sizes are>>
6-8, 8-10, 10-12, 12-14, 14-16.
Your receipt is emailed to you, it is never shipped with your order.
(Suitable for teenage girls aged 10-17)
Shipped from Waterford 1-2 days working days after order.
Free shipping & Free Returns in Ireland.  Worldwide shipping is EUR14
We really want to boost our young girls confidence.  They need us to help them.  For every 10 Confidence Boxes sold we will donate 1 Confidence Box to a teenage girl in need!
SOME OF OUR GOOGLE REVIEWS
Overall a phenomenal service! Easy ordering, questions answered right away, fast postage and beautiful packaging and product. Will definitely be ordering again!
Love the book resort..i ordered a box for my sister birthday and it was a lovely surprise for her.. Quality products and beautifully packaged! I now recommend book resort to my friends who are looking for gift ideas!
Brilliant service great irish made products especially the chocolate and a great read every month. Highly recommend The Book Resort for a monthly treat or a gift for someone excellent all the way.
"Absolutely brilliant business. Very good to deal with if you have any queries. The books are always brilliant, I don't know how Aisling does it! Would highly recommend. The little touches to the packaging & attention to detail etc are what sets it apart from others."
"I purchased the 3 month subscription as a gift for a friend and he loves it. The fact that Irish companies are used for the chocolate and little gift is brilliant. I would highly recommend this service, such a great idea!"
"Ordered a couple of times from this company, such a brilliant idea, really affordable and thoughtful gifts and the customer service is excellent. Delivery was so quick and the packaging was beautiful. I would highly recommend!"
Use code "Christmas" for 50% off your first months subscription.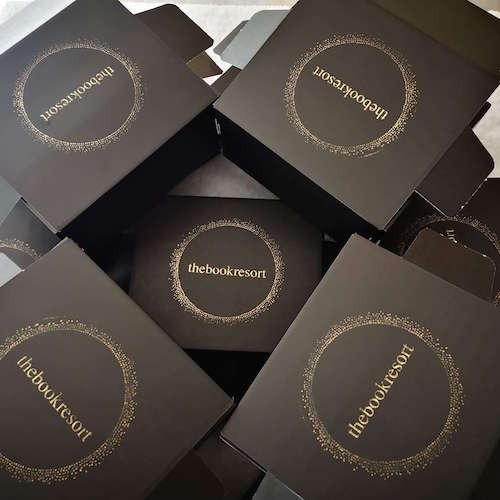 Our signature sleek black boxes are luxurious and distinctive. Our attractive boxes are made in Ireland, FSC Certified, 100% recyclable & reusable.  Products are carefully wrapped in gold & black tissue paper which gives a very pleasant unboxing experience.

All of our suppliers are Irish and we love introducing new people to small Irish businesses.  We are an avid supporter of Irish charities & have made contributions to #dogsangelsireland for Green Friday, gifted #50 frontline workers gift boxes and we are committed to gifting 1 in 10 of our  "Confidence Box" to a teenage girl in care.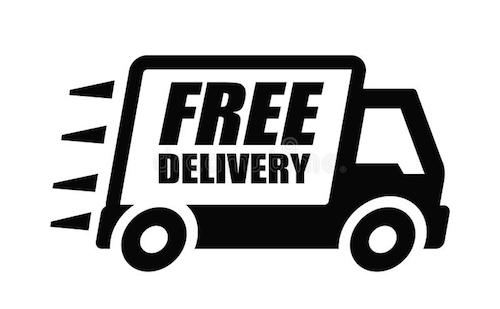 Not only do we have free delivery in Ireland, but we also have free returns in Ireland.  We send a courier to your house to collect your parcel.  We also have very fast delivery in Ireland, one time boxes are shipped 1-2 working days after order.  Same Day Delivery is available in Waterford City (15k radius).
Free Shipping & Free Returns in Ireland
Same Day Delivery in Waterford City(5K radius) on request!
TIME LEFT TO SIGN UP FOR JANUARYS BOX
(Boxes start shipping around JANUARY 4th)
Follow us on Instagram @thebookresort sometimes we give away seriously good stuff.
Address: Butlerstown, Co Waterford
Copyrights © 2020 All Rights Reserved By thebookresort