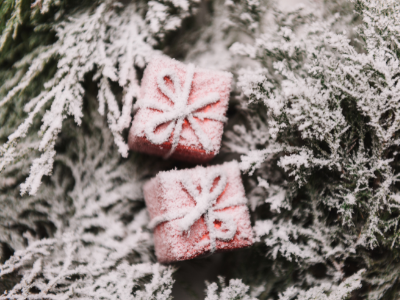 Top 5 Christmas Gift Ideas 2023
Top 5 Christmas Gift Ideas 2023
Irish Christmas Gift Ideas
Shopping local and coming up with unique Christmas gift ideas is another box to be ticked on everyone's Christmas presents list this year. Over the course of the past two years, we have seen businesses boom and businesses go bust across Ireland. Many of these businesses would have been our go-to retailers, especially when it comes to buying our Christmas presents and searching for unusual or surprising Christmas gift ideas. What do all these businesses have in common you might ask? They are all small, local and Irish owned businesses that we want to see thrive in the marketplace for years to come. In addition to this they all offer the most interesting and unique Christmas gift ideas to us every year. Contrary to popular opinion, for our Christmas presents this year we want to spend all our money in one place - and that place is Ireland.
Local Christmas Presents
These small, local and independently owned Irish businesses hold a special place in our heart here at The Book Resort. Like them, we are also a small Irish business and we pride ourselves on supporting and showcasing other small Irish businesses, particularly when it comes to the busiest time of the year– when the whole world is out searching for Christmas gift ideas and buying Christmas presents! That is why we supply and stock more than 100 small Irish companies and products in our little warehouse here in Waterford. When searching for Christmas presents this year we really encourage you to take the plunge and purchase these recommended Christmas presents. Once they end up on the shelf of the recipient, we guarantee they will love them. Let our reviews do the talking. Check out our 5* reviews here.
Unique Christmas Gift Ideas
Christmas gift ideas and Christmas presents are the thought on everyone's mind at the moment. Every year Christmas comes earlier with the Christmas gift ideas search beginning in September and the Christmas presents shopping beginning in October. This is fantastic as it adds a little bit more joy to the dreaded winter months. This however can also be a difficult concept for those who struggle to find meaning in Christmas -particularly considering how the last two Christmases have been so monotonous in Ireland due to numerous lockdowns and restrictions. Nonetheless this year it seems as though just about everyone wants to make Christmas that little bit more special this year with their Christmas gift ideas! Whether that is spending more time with friends and family or finding that perfect, handcrafted, personalised Christmas presents for loved ones – we have the most perfect Christmas gift ideas for you.
If you're struggling to find those unique Christmas gift ideas or those perfect Christmas presents this year, don't worry. We have curated a small but mighty list of our top 5 Christmas presents that are locally made for Christmas 2021. Not only are this small Irish business local, but most of them also handcraft and personalise their bespoke gifts. By doing this and by being local, sustainability easily comes into the equation. Small + local = sustainable. That, ladies and gentleman, is something we truly love to see here at The Book Resort when we are searching for our Christmas gift ideas and shopping for our Christmas presents.
Our tailor-made small Irish products list consists of a variety of Irish Christmas presents from candles to mugs to chocolate. There are Christmas presents in here for absolutely everyone. So, let's begin.
Customised Christmas Cup Christmas Presents from Swear Mug Ireland
Swear Mug's personalised mugs always go down a treat when used as Christmas presents in our gift boxes. That is why we have added them to our Christmas presents list this year! What better way to achieve giving that personal and unique Christmas gift ideas than by putting Merry Christmas on an everyday household item! We truly love this gift because Swear Mug really do go above and beyond to personalise their gifts. Not only this, but they are also super local which makes it even better when it comes to merging locality, convenience and Christmas presents! Make sure to get your hands on this unique Christmas gift idea from Swear Mug before they are all gone! Check out what else they have to offer on the Swear Mug website.
Noelle Christmas Candle from Millis
Ever wondered what Christmas smells like? Well, you can now experience it in the form of a marvellously scented Christmas candle. The aroma and scent experienced from a unique Christmas gift idea like a Millis candle is like no other. What's even better is how they are made. Handcrafted by the experts over at Millis – the content on their page is so satisfying, we love seeing them creating candles! Check out how they do it on the Milis Instagram page. Their Christmas presents are to die for!
Chocolate Snowman Christmas Gift Ideas from Skelligs Chocolate
Now whoever said chocolate is only for Easter has never tried Skelligs Chocolate. Chocolate should be the most important product on your list of Christmas gift ideas this year. Luxurious, mouth-watering, and festivities all wrapped up into one deliciously dense snowman. Is this the ultimate gift to add to your Christmas presents list this year? We think so!
Cosy Bamboo Socks Christmas Presents from Polly and Andy
Christmas brings winter and winter brings freezing cold weather that makes our feet scream when they hit the floor. Don't worry though, Polly and Andy cosy bamboo socks are here to save the day this Christmas. A truly heart-felt Christmas gift idea! Not even fluffy socks will beat these luxurious and comforting seam free socks as a Christmas present this year. However, Polly and Andy socks are not just for Christmas presents, they are for life. Check out their range and availability on the Polly and Andy website. Your fathers will thank you for these precious Christmas presents!
Award Winning Christmas Gift Ideas from Mella's Fudge
Nothing says Christmas like Christmas dinner, and nothing says Christmas dinner like Christmas presents in the form of desert. Treat the whole family to some of the most delicious fudge we have ever tasted in our life with Mella's Fudge. This award-winning vanilla fudge is what desert time was made for. Most enjoyable with a cup or tea, coffee or Christmas tipple!
 Shop our Christmas gifts here.
We can guarantee that whoever receives these thoughtful Christmas gift ideas and Christmas presents from you this year will be absolutely thrilled. On top of that you will be supporting many small local and independent Irish business owners – amazing!
Don't forget to keep it small and keep it local this Christmas. Small business owners literally smile from ear to ear when they receive your order. Make a small Irish business owners Christmas this year by shopping local and watch the recipient of the gift be wowed too!
The list doesn't end here. Keep an eye on our blog for more Christmas gift guides for Christmas 2023!
As always read more books.
The Book Resort Team
We have a special offer at the moment, where you receive a free subscription box if you sign up for a 6 month subscription.  Click here for more information.