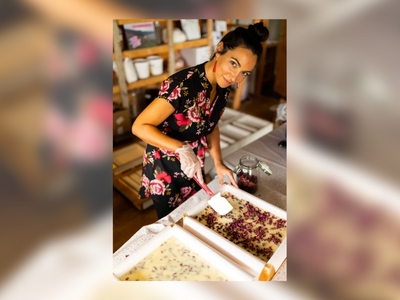 Women in Business in Ireland - Raquel from The Moher Soap Company
One of our most loved suppliers, Raquel tells us why she set up her own business.
Tell us about yourself, where are you from and what business do you run?
Hi! My name is Raquel and I was born in Galicia in NW Spain. I moved to West Clare about 15 years ago and started my business a few years later. The Moher Soap Co. is the brand for the soaps, bath salts and balms that I make by hand in my small workshop. 
What made you decide to set up your own business?
After relocating to Clare I found it hard to get work in the field that I had been trained in. The work I could get felt like a bit of a dead end, so I decided to try and sort something out for myself! 
What do you love about running your own business?
I really love the freedom to express myself, if that makes sense? Everything a small business does is a reflection on the few people that run it, so you have the ability to tell this story in how you present your products and conduct your business. Also, when things are going well, it can be very fulfilling.
And the parts you don't love?
The late nights required to handle the workload are less fun… 
What was your biggest learning curve?
Learning to trust myself with making decisions was tricky at first, but quite quickly overcome. Harder was getting to grips with employing people and dealing with different personalities. I'm still learning all the time.
What would be your advice to other women in business or thinking about starting out?
Don't plan to fail, but understand what you are getting into. Research the various institutions that exist to help start-ups succeed. Lastly, if you are selling something, try to really understand your market.
We know you are very busy, how do you take care of yourself?
A little bit of exercise every day. I also find it important to communicate with the people around me so that we aren't second guessing each other.
How can people support small Irish businesses?
If you see something that you like, product or service, then actively try it out.
Tell us a book/podcast/other business that you admire/would recommend.
I'm surrounded by a number of other small businesses and traders who act to raise the bar for everyone. I'd recommend coming to West Clare and having a good look around!  My personal weakness is handmade jewellery and I just love local crafter Rowena Sheen pieces.
Visit The Moher Soap Company.