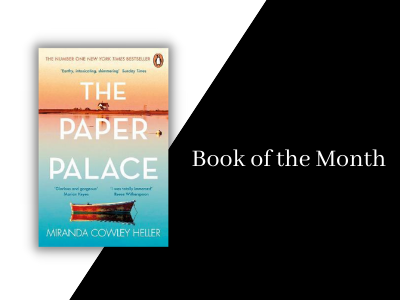 The Paper Palace by Miranda Cowley Heller Book Review
The Paper Palace by Miranda Cowley Heller Book Review
We have a special offer at the moment, where you receive a free subscription box if you sign up for a 6 month subscription.  Click here for more information.
Looking for a book that will keep you up all night with its enthralling story line? Do you want to be completely fulfilled and satisfied with the ending of a novel and hope that one day it will be featured on the big screen? We've got just the book for you.
The Paper Palace by Miranda Cowley Heller is a suspense filled romance novel with just a touch of domestic fiction added into the mix. This may be one to add to our Staycation 'To Be Read' List. We have even more recommendations on some of the best staycation reads here.  
The Paper Palace as our Book of the Month
If you are a member of a book club that isn't The Book Resort Book Club we compel you to recommend Miranda Cowley Heller's debut novel, The Paper Palace, as the next book of the month. Did you know Reese Witherspoon even featured The Paper Palace as her book clubs book of the month this year? That's because The Paper Palace is a thrilling and captivating story that was impeccably written by the amazing Miranda Cowley Heller.
The Book Resort Book Club
If you're not a member of a book club but want to be, why not join ours here? We are always on the lookout for new members who love all things books and reading just like us! The community we have created in our book club is like no other and we have a great laugh as well as many in depth discussions about the books we read (whether we loved or hated them). If you want to learn more about our book club before you decide to dive right in and join, check out more about it here. Becoming a member of a book club could really change your life!
Our book club has just recently finished up reading The Paper Palace for the month of September. The novel has kept us on our toes and up all night for the month of September. Our book club members absolutely devoured The Paper Palace with most of them having it read before the end of the month. Here's what some of them had to say;
"Finished The Paper Palace and loved it!" – Betsy
"Just finished The Paper Palace and loved it!! Wasn't too sure at the start but couldn't put it down all weekend!!! Loved it! 5 stars!" – Alison
"I enjoyed it [The Paper Palace] – 8/10!" - Jen
Romance, Suspense, Domestic Fiction and Abuse all Rolled into One
As the winter months begin to set in there is nothing quite like cosying up next to the fire and getting stuck into a good romance novel full of suspense and drama. That is exactly what Miranda Cowley Heller offers her readers with her novel The Paper Palace through the demeanour of the main character and protagonist, Elle.
We watch as onlookers as a series of relationships fall apart and reconnect several times at the shore of The Paper Palace. At The Paper Palace these romantic, abusive and 'perfect' relationships are stored away as secrets and simply not discussed. However, the reader gets an inside look into just how difficult even the most perfect looking relationships can be. Even the most perfect relationships can be ruined by the past creeping up on the present, particularly for Elle when they are connected to and intertwined with her childhood memories at The Paper Palace.
As the story unfolds and we stand as onlookers of a perfect marriage as well as an illicit affair, Elle's childhood begins to permeate throughout these relationships as she attempts to understand why she acts and reacts to certain situations and how sometimes her actions do not correspond with her thoughts. As a childhood traumatic event is brought into the mix as Elle sways between childhood and present day, we begin to delve deep into how past experiences shape the people we are today but how we can prevent them from defining our future. 
Heller and Her Paper Palace
The Paper Palace is initially showcased to us, the reader, as a place of calamity. However, more often than not we are encouraged by Heller to see how The Paper Palace resembles a place of pain, hurt and anguish for those who reside there. Miranda Cowley Heller's descriptive narration takes us to The Paper Palaces door step where the lake water resembles soup and can often wash away secrets. However the lakes at The Paper Palace always seem to bring the most difficult of memories back to shore for the people who swim there.
We must commend Penguin House for publishing The Paper Palace. What a truly fantastic read. Heller really committed to the portrayal of the characters and the description of the scenes in which they find themselves. We are beyond grateful that Penguin House brought this book to the shelves as well as Heller for writing it! If you find yourself looking for details and descriptions that literally transport you to another place then Miranda Cowley Heller's books are for you. Heller uses full bodied writing that really allows you to step into the book and follow along with the story - almost imagining yourself hiding in the corner watching it unfold.
Heller's descriptions of the water, lakes and swimming at The Paper Palace really stood out to us throughout the entirety of the novel. It felt as though the back and forth motion between Elle's past and present was replicating the action of the lake at The Paper Palace. It encouraged the idea about how sometimes the water can be exactly what you need to survive yet at other times; it can take you under completely. This was a very interesting contrast for us and was very clever of Heller to use as at times it appears as though Elle's life is a sinking ship.
The Paper Palace and Trigger Warnings
Now don't get us wrong, many times The Paper Palace was a difficult read with many trigger warnings and abusive scenes surprising their way into the storyline. These instances however were necessary to really hit home about how our childhood affects our present day, no matter how much we wish it wouldn't. However, The Paper Palace was nonetheless stunning and we wish that it had never ended.
We imagine that Miranda Cowley Heller has more work in the pipeline, hopefully this side of 2021. Whatever it is, we look forward to reading it (or maybe even watching it) if it is just as good as her debut novel The Paper Palace. The Paper Palace is definitely one that we can see heading to the big screen in the future.
Read about Mirandas switch from TV to writing here.
Make sure to read The Paper Palace book and thank us later!
The Book Resort Team x
We have a special offer at the moment, where you receive a free subscription box if you sign up for a 6 month subscription.  Click here for more information.
Make Yourself at Home Book Review
Acts of Desperation Book Review
The Midnight Library Book Review
The Extraordinary Hope of Dawn Brightside Book Review