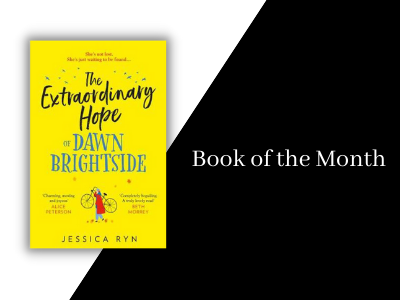 The Extraordinary Hope of Dawn Brightside by Jessica Ryn Book Review
The Extraordinary Hope of Dawn Brightside by Jessica Ryn Book Review
We have a special offer at the moment, where you receive a free subscription box if you sign up for a 6 month subscription.  Click here for more information.
After reading the Extraordinary Hope of Dawn Brightside written by Jessica Ryn, it is impossible not to smile. This book absolutely radiates positivity from cover to cover and we absolutely loved its outlook on life and how we live it, particularly during these turbulent times.
The Extraordinary Hope of Dawn Brightside is Jessica Ryn's debut novel. Jessica is a former midwife and homeless resettlement worker which gave us as the reader a true insight into what it's like to be homeless. With experience like this, as well as an MA in Creative Writing, it is of no surprise that this novel was as believable and transparent as it was.
The Extraordinary Hope of Dawn Brightside-Always Judge a Book by its Cover
Before we talk about this book, we just HAVE to mention the book's cover. That lovely mid-day sunshine yellow really radiates through any bookshelf and it was what initially drew us towards the book (even though you shouldn't judge a book by its cover). It is evident from just the cover that this book is going to bring happiness into your life along with the main character of the novel, Dawn Brightside. 
The Extraordinary Hope of Dawn Brightside-Always Look on the Bright Side of Life 
The novel centers on Dawn, a homeless woman who has spent twenty-two years running from someone and looking for something whilst ALWAYS remaining hopeful. The novel takes a then and now approach to the story line as we navigate through Dawn's thoughts and struggles over the course of her life, from childhood to present day. Not only this, but the novel takes on another form of narrative. It forms something along the lines of a major and a minor character perspective, with Dawn being the major and Grace being the minor. Grace's character allows us, as the reader, the opportunity to also follow along with her story and perspective of being the manager at a homeless shelter, St. Jude's in Dover, England, where Dawn ultimately finds herself settling for the first time in a long time.
The Extraordinary Hope of Dawn Brightside-It's all About Perspective 
Having bagged herself a spot at St. Jude's Homeless Shelter, Dawn's hopes and dreams begin to take shape. She makes some new friends, does some good deeds and is given a safe space where she can rest her over-active head at night. However, rest is not something that comes easy to Dawn. This novel gives us a particular insight into those who experience homelessness and mental illness due to the lack of funding and effective systems that are still not in place in many first world countries for people who experience homelessness.
As the story progresses, we come to realize that Dawn is happiest when people around her need her. She will always say yes to anything anyone asks of her with a smile on her face and only good thoughts in her mind, except for when it comes to the red headed man who haunts her day and night. 
At St. Jude's hostel the residents really look to Dawn as a source of inspiration. They need her and her hopeful spirit to keep the mood bright and cheerful. This is something that is so important to Dawn for one particular reason, which we can't tell you without spoiling the ending!
The Extraordinary Hope of Dawn Brightside-This Book Should be in Your TBR Pile
This moving and uplifting novel is definitely one to add to your reading list. Here at The Book Resort we felt that this novel would be a great summer read, particularly coming into the end of lockdown when everyone is feeling quite downtrodden and melancholy. It has to be said that this novel really did bring an aspect of hope and positivity to our lives whilst being beyond informational and educational.  For those of us who have never experienced homelessness it can be hard to grasp just how difficult life can be and this book really portrays this topic well, but in a positive light. 
The Extraordinary Hope of Dawn Brightside-A Side Note…
Just for any nerds out there like us, we had to look up some statistics on homelessness after finishing this book and according to Focus Ireland (2021);
"There were 8,060 people homeless in the week of the 22nd – 28th of March 2021 across Ireland. This figure includes adults and children. The number of homeless families has increased by 232% since July 2014 when the monthly figures started being published."
This is such a huge figure and is necessary to remind us just how prevalent the issue of homelessness is and how important narratives just like The Extraordinary Hope of Dawn Brightside are to the literary world!
This novel allowed us to gain a different perspective towards aspects of homelessness and mental illness that we may have not considered or thought about before, as well as looking at how people who experience homelessness often remain hopeful and happy – no matter what their circumstances. This is portrayed well through the alternation of narratives between Dawn and Grace. Although they had polar opposite childhoods and backgrounds, they are quite similar. This allows the reader the opportunity to understand that even though we may look or be different, we all have struggles no matter how big or how small.
From the reader's perspective we get to see and experience the lives of those who have struggled. Every single character that features in the novel has had to deal with extremely difficult situations and endure some awful experiences which in itself are quite uplifting as it shows that everyone struggles and that change is possible.
The Extraordinary Hope of Dawn Brightside was a truly beautiful and happy yet tear-jerking read and we highly recommend it here at The Book Resort. 
We hope you enjoyed this little rant about Jessica Ryn's debut novel and if you get the opportunity, you should definitely read it!
We have a special offer at the moment, where you receive a free subscription box if you sign up for a 6 month subscription.  Click here for more information.
Make Yourself at Home Book Review
Acts of Desperation Book Review
The Midnight Library Book Review
And as always, read more books!
The Book Resort Team