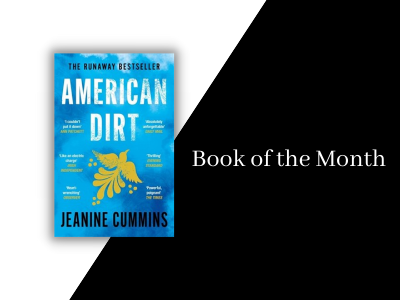 American Dirt by Jeanine Cummins Book Review
American Dirt by Jeanine Cummins Book Review
We have a special offer at the moment, where you receive a free subscription box if you sign up for a 6 month subscription.  Click here for more information.
Question:What fits perfectly with your favourite subscription box from The Book Resort?
A book club.
Question: And what goes hand in hand with a book club?
Book reviews!
In the past we wrote a blog post on how being a member of a book club can be so beneficial for many reasons. You can check that blog out here if you're interested. Now, did you know that we also have our own book club?
Every month in The Book Resort Book Club we pick a new book to delve into. This book is different to the books in our subscription boxes so that everyone can join in.  There are discussions about our monthly subscription books too. So, if you're a subscriber you can also chat to other subscribers about your subscription book. It's a fabulous little community and we urge you to join if you haven't already.
In May we read When All is Said by Anne Griffin which was an amazing story. For the month of June we decided to read the brilliant book American Dirt by Jeanine Cummins and what a book it was. Compelling and vivid, we found it hard not to spend dawn to dusk reading this book.
Following the tale of Lydia and her son Luca, who are sole survivors in an attack on her husband due to his publishing an expose piece on a cartel boss, we witness a story go from harmony to utter chaos. It was difficult not to find this novel heart wrenching and emotional. As a story about Mexican immigration, this is one to remember.
As they travel through the north in order to seek refuge in Mexico City (and often by foot) they are captured by immigrant agents and forced to pay for their release.
The people they meet on their journey are crucial to the plot and play a huge role in emphasising the difficult journey many people have to take in order to flee dismay and terror in their home country.
With an ending that will leave you feeling happy, the story will remain with you as harrowing. This book was a real wake up call for those of us who have not had to endure such difficult and painful situations or traumatic circumstances such as this.
Jeanine Cummins really made this book come to life with every page. We could visualise everything so vividly from the bullets in the bathroom to the sisters of beauty, the immigrant trains and not to mention the walk in the desert. It truly did capture our attention from the outset.
If you are looking for something compelling and heart wrenching that will literally bring a tear to your eye – you are going to love this book. We would absolutely love to see this produced as a film or even better… a sequel!!
Here's what some of our book club members said about it:
"Found the book so relatable to stories growing up" – Betsy
"I found it to be a deeply harrowing story that I just could not put down" – Eva
"I would give it 9 out of 10 great read" – Pauline
"I'm really gripped by the characters" – Tricia
We have a fantastic corner of the internet related to all things books! So why not join? Or even better - why not subscribe to our book subscription box? Our little book and gift shop is just so magical and an amazing community to be a part of. We have to pinch ourselves daily to remember that we are living our dream. So go on, treat yourself. You most certainly won't regret it.
Visit Jeanine Cummins website here and find out more about her.
PS. JOIN OUR BOOK CLUB & READ MORE BOOKS!
The Book Resort Team x
We have a special offer at the moment, where you receive a free subscription box if you sign up for a 6 month subscription.  Click here for more information.
Make Yourself at Home Book Review
Acts of Desperation Book Review
The Midnight Library Book Review