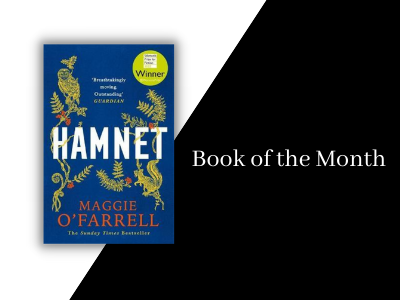 Hamnet by Maggie O'Farrell Book Review
Hamnet by Maggie O'Farrell Book Review
We have a special offer at the moment, where you receive a free subscription box if you sign up for a 6 month subscription.  Click here for more information.
Based in Warwickshire in the 1580's Hamnet is a fantastic novel that really captivated the difficulties associated with death and grief in a time where the world, outside of the home, was difficult to understand and comprehend. This was a truly captivating novel that we rate highly here at The Book Resort. So highly in fact that we are giving it a solid 8.5 out of 10!
We are huge fans of Shakespeare's work. From Hamlet to Othello to Romeo and Juliet – these are absolute literature classics that we all know and love. We mean, what literature lover doesn't have great respect for such a classic creative? This is what got us interested in reading this novel from the beginning and now we are so glad that we did.
The first thing that captured our intrigue is that throughout the entirety of the novel, O'Farrell never mentions Shakespeare's name even though there are many factors that give his character away. He is often referred to as 'the husband' or 'the Latin tutor'. Although this may be difficult to follow for some, what we love about this is that it allowed us to generalise the storyline. Although we knew it was about Shakespeare's family, we didn't have to romanticise it or look at it from a different perspective as it made it much more relatable to the reader. We must remember that 'celebrities' as such are also just human beings with a fantastic talent who also experience hardship and grief – like you, like us and like Shakespeare himself.
Although the novel is titled Hamnet, who was Shakespeare's son, this story is really centred on his wife and Hamnet's mother, Agnes, who is a force to be reckoned with. Agnes is a feisty character who is extremely independent and has a mystery to her. Her character is almost portrayed through a modern lens that aids the reader in finding huge respect for her character as the novel progresses. With this, her character is often intertwined with underlying tones of sorcery and witchery which is compelling and relevant to the timeframe of the story.
We must also mention how much we enjoyed reading and understanding the complexities of the family dynamic. Gender and social norms are abhorrently different to today and it is very insightful from O'Farrell to remind us of this. This allows the reader to gauge a better understanding of why and how the family dynamics back then were the way they were. However, through the character of Agnes and her twins Judith and Hamnet, these stagnant roles are often blurred which is also admirable as it brings a type of modern twist to the novel as well.
The undeniable spread of the plague is quite frightening throughout the course of this novel. However it is very relevant to us today considering what societies all across the globe have had to endure during the course of the COVID-19 pandemic. The scenes and descriptions of the spread of the plague and its wholly claiming nature of one's body are both frightening and intriguing.  
Hamnet has been nominated for many awards and even won the 2020 Women's Prize for Fiction. We can absolutely see why. Written with such a captivating use of language that is reminiscent of Shakespearean time, one cannot help but fall in love the poetic nature of O'Farrell's writing. We must mention however that this language is nowhere near as complex or difficult to understand as literature from the 1580's may have been.
Because most of us are aware of the tragedy that takes place towards the end of Hamnet due to Hamlet, there is something unique about reading this book as it is almost as if we are reading the story backwards. We can't imagine the research that must have gone into such a novel. For this we commend O'Farrell
This fictionalised but meaningful account of Shakespeare's son, Hamnet, explores the topics of grief and loss through the many highs and lows sprinkled throughout the book. We are so happy we came across this book and would highly recommend you read it.
We hope that you enjoyed it and thank you to everyone in The Book Resort Book Club that got involved in the discussion. You can become a member here.
As Shakespeare would say –Readith more bookith!  
You can visit Maggie O'Farrells website here to find out more about her.
The Book Resort Team
We have a special offer at the moment, where you receive a free subscription box if you sign up for a 6 month subscription.  Click here for more information.
Make Yourself at Home Book Review
Acts of Desperation Book Review
The Midnight Library Book Review