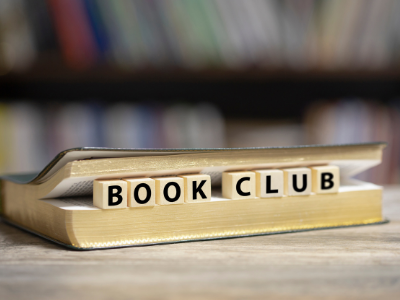 Book Club in Ireland
Ever thought about joining a book club? Well you have landed in the right place.
The Book Resort Book Club is one of our most prized possessions. We always wanted to be able to offer our audience the ability to be involved in our community whether they are a customer of our products or not and that is exactly what we do with our book club.
If you're not a member yet you can join here but first, let us give a few reasons why you should join our virtual book club!
5 Reasons to Join The Book Resort Book Club 
Book of the Month 
Research is our passion. I mean, we are The Book Resort after all. Our Monday to Friday job is researching, reading and analyzing the best and newest books on the market. We are constantly chatting to and discussing books between our own internal team as well as national and international publishers meaning that a book is worth the read - we know it. And if we know it, as a member of our book club you'll know it too. Our Book of the Month is always tailored to what our members want to read as well as what is most popular on the shelves at that time!
It's Social 
Our book club was founded on the basis of community. We wanted to have a safe space for people to come and chat about all things books - regardless of what genre, opinion or popularity the book has/is. The Book Resort Book Club is a hub for friendships to evolve and for our members to get to know each other. We even do a club wide Secret Santa where members [if they want to] get involved and send each other books at Christmas! 
Free Books - Regularly
Every now and then books arrive at our warehouse that are a little fragile, but not useless. Some books arrive with a damaged spine or a creased cover but they are completely and utterly worthy of love and a good home! We offer these out to our members on a first come first serve basis and they absolutely love it - as do we when they leave reviews in our club! 
Learn New Things
Sometimes we think a book is utterly terrible or amazingly insightful. When you're involved in a virtual book club you get the opportunity to learn how and why people disagree or agree with how you feel about this book. This often opens new doors for members to broaden their scope and read genres that come highly recommended by other members - even if they wouldn't typically read that genre. 
Gain New Perspectives and Cultural Awareness 
This reason plays into the last but is also an important point to consider. We read a wide and diverse variety of books in our book club that has opened people's eyes to different cultures, perspectives and processes. If you're a writer then this type of perspective is utterly invaluable to the writing process if you're looking to be successful with your writing. 
Review our Reviews 
Here are some reviews of the books we have read previously.
Make Yourself at Home Book Review
Acts of Desperation Book Review
The Midnight Library Book Review
The Extraordinary Hope of Dawn Brightside Book Review
Join our book club today and get involved in our book discussions.
Happy Reading!
The Book Resort Team
We have a special offer at the moment, where you receive a free subscription box if you sign up for a 6 month subscription.  Click here for more information.